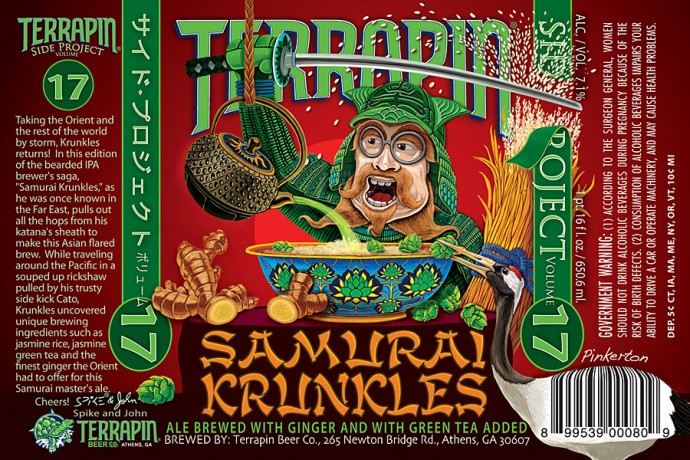 Terrapin's latest Krunkles is headed to shelves. The fictitious (or no so fictitious) Samurai Krunkles gets shipwrecked in Japan. This Side Project #17 is an Asian inspired IPA, brewed with jasmine rice, ginger and jasmine green tea.  That's on top of 5 different hop varieties you'll find in this brewing improvisation.
This Asian-inspired IPA is brewed with fragrant jasmine rice, ginger and jasmine green tea for a bold and unique set of flavors built to balance out the hoppy kick present in all Krunkles brews. Yes, Krunkles is known for his love of hops and the Samurai Krunkles is no exception with five hops in the mix. This beer is our homage to the man and the beers we think he brewed while studying with these ancient masters. We call it his version of the tea ceremony.
Style: IPA (w/ Green Tea, Jasmine Rice, Ginger, Dextrose)
Hops: Columbus, Nugget, Falconers Flight, Zythos, Sorachi Ace
Malts: 2-Row, Best Munich, Victory, Pale Crystal
Availability: 22 oz bombers, Draft. One time release.
7.1% ABV