It's a cold January out there. Boulevard Brewing (Kansas City, MO) has a beer to help you warm up a bit.
Kicking off the the year with the first release in their Smokestack Series is Rye-On-Rye. The base beer a rye beer, aged in Templeton Rye barrels.
Why not brew a rich, tawny rye ale, then mellow it in the warmth of charred oak rye whiskey casks? Two kinds of malted rye provide spicy sweetness, giving way to notes of caramelized wood and the citrusy tang of Citra and Ahtanum hops before easing into a dry, lingering finish.
Style: Rye Beer (w/ Brown Sugar, Dextrose. Barrel Aged. Whiskey)
Hops: Magnum, Citra, Styrian Golding, Athanum
Malt: Pale Malt, Malted Rye, Munich, Cara 50, Crystal Rye
Availability: 750ml Bottles, Draft. Limited Release. January Seasonal
12% ABV, 44 IBUs
Read more: Boulevard Smokestack Series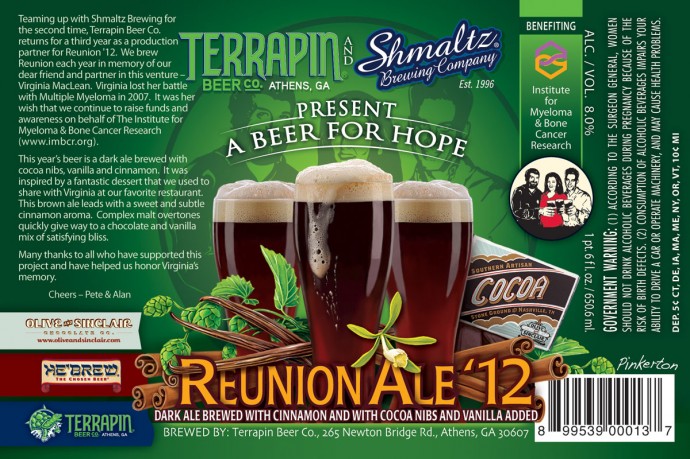 Reunion Ale and the great cause the comes with it is back for another year. Terrapin and Shmaltz Brewing have teamed back on up on another edition.  The 2012 collaborative effort is much like last years release, except that chili peppers didn't make the cut. A small cast change – cinnamon (the spice, not the stripper) joins the group.
The Cause: Virginia MacLean died from complications from her Multiple Myeloma on June 4, 2007. Virginia was not only the inspiration for the REUNION- A Beer for Hope project (now in its sixth year), but an active participant in every facet of its creation. It was her wish that we continue the mission of raising funds for IMBCR and bringing hope to others. Her dream and memory ware carried forward by her fellow Reunion founders Paul McErlean, brewmaster at Shmaltz Brewing Co., and Alan Shapiro, who worked with Virginia at Pete's Brewing Company during her initial illness. Worldwide, over 1,000 people per day are diagnosed with this cancer of the plasma. IMBCR is one of the world's leading independent researchers. Their work not only affects myeloma patients, it also produces benefits in areas such as lymphoma and breast cancer.
Style: Brown Ale (w/ Cinnamon, Cocoa Nibs & Shells, Vanilla, Dextrose)
Hops: Willamette
Malts: Pale 2 Row, Victory, Special Roast, Crystal, Brown Malt, Chocolate
Availability: 22oz bombers, Draft. All Terrapin markets.
7.9% ABV, 38 IBUs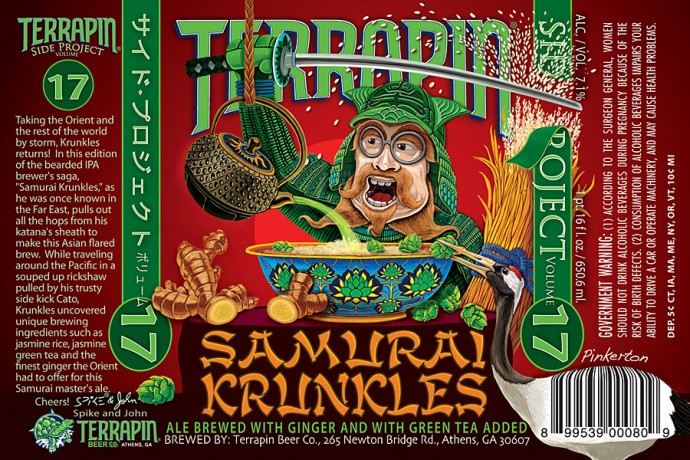 Terrapin's latest Krunkles is headed to shelves. The fictitious (or no so fictitious) Samurai Krunkles gets shipwrecked in Japan. This Side Project #17 is an Asian inspired IPA, brewed with jasmine rice, ginger and jasmine green tea.  That's on top of 5 different hop varieties you'll find in this brewing improvisation.
This Asian-inspired IPA is brewed with fragrant jasmine rice, ginger and jasmine green tea for a bold and unique set of flavors built to balance out the hoppy kick present in all Krunkles brews. Yes, Krunkles is known for his love of hops and the Samurai Krunkles is no exception with five hops in the mix. This beer is our homage to the man and the beers we think he brewed while studying with these ancient masters. We call it his version of the tea ceremony.
Style: IPA (w/ Green Tea, Jasmine Rice, Ginger, Dextrose)
Hops: Columbus, Nugget, Falconers Flight, Zythos, Sorachi Ace
Malts: 2-Row, Best Munich, Victory, Pale Crystal
Availability: 22 oz bombers, Draft. One time release.
7.1% ABV