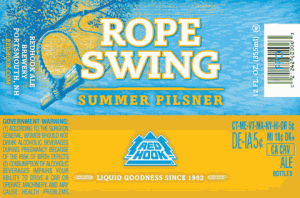 Redhook Brewing from Portland, NH has added a new summer seasonal for your drinking pleasure.   It's a pilsner, which should should meld well with warmer weather.  The name just sounds like summer doesn't it?
One great thing to note right off the bat about Redhook's Rope Swing pilsner is that there aren't all too many CRAFT BREWED pilsners available about there.  Shiner just made a splash with Shiner 101.
As described by Redhook –
"Rope Swing Summer Pilsner is brewed in a traditional Czech style and is the first pilsner Redhook Ale Brewery has ever released.  Rope Swing Summer Pilsner offers a very soft palate and malt flavors that are offset by a medium dose of destinct Czech hops to bring out its authentic flavors.  The refreshing beer finishes with a clean, bright, thirst-quenching quality."
Ingredients –
Hops – Saaz
Malts – Pale, Carapils, Caramel, Munich
5.3% ABV
25 IBU's (Low Bitter)
Availability – April  – July Nationwide, draft and bottle.  2010 Inaugural brew year.
5/4 – Currently in stock at Hop City.
Notes – Redhook suggested food pairing – barbecued chicken, bratwurst, spicy food, fresh fish, and green salad.