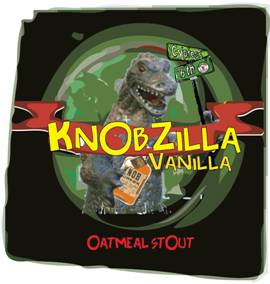 Cypress Street's People's choice winning cask  at Sweetwater's Brew Your Cask Off event has quickly become a hit.  It was a standout at Sweetwater, and was drained dry at 420 Fest.  I'm pleased to be able to mention you have one final chance to enjoy this beer – tomorrow night 5/4 at Cypress Street.  Knobzilla Vanilla is the featured cask at Cypress's Beer Geek Tuesday event.
In short, Knobzilla Vanilla is an Oatmeal stout, brewed with Knob Creek and vanilla beans.  Yeah, it gets my mouth watering too.  It's every bit as tasty as it sounds and you have one last chance to get it.
This cask taps at 6pm, Tuesday 5/4.
Cypress Pint & Plate
817 West Peachtree Street Northwest
Atlanta, GA 30308
(404) 815-9243