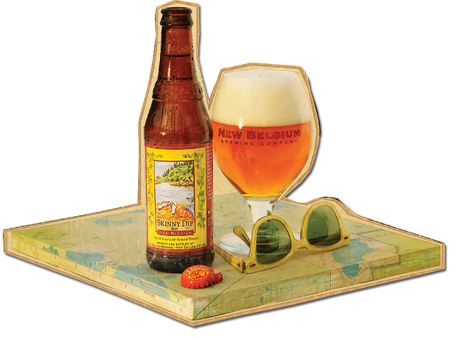 This full bodied "light" offering from New Belgium took it's time getting to Atlanta.  Skinny Dip is an American Blonde Ale, which is both light and drinkable.  You don't see a lot of craft breweries making "light" options.  The accepted notion is that light beer equates to less flavor.  That's not the case with Skinny Dip.  It's definitely full favored for being a lighter option.
Ingredients –
Hops – Cascade
Flavors – Drinkers have describes notes of citrus ( from the cascade hops) and hazelnut.  Also a light malt backbone that is not overbearing, or overly sweet.  New Belgium even touts this brew as having hints of lime leaf.
Skinny Dip is also a beer that stands for something.  New Belgium is a wind powered brewery, that takes a big interest in water.  (Beer is mostly water, I'm sure you see the correlation.)  The water from the Colorado river that NB brews as any water source is potentially threatened.  Teamed with savethecolorado.org to help individuals understand the plight of the Colorado River, and what individuals (and beer drinkers) can do to help conserve.
4.2% ABV
Availability – Skinny Dip is the summer seasonal, joining the lineup with Mighty Arrow, 2 Below, and Hoptober all which have already arrived here.  12 oz/6 pks & draft offerings.