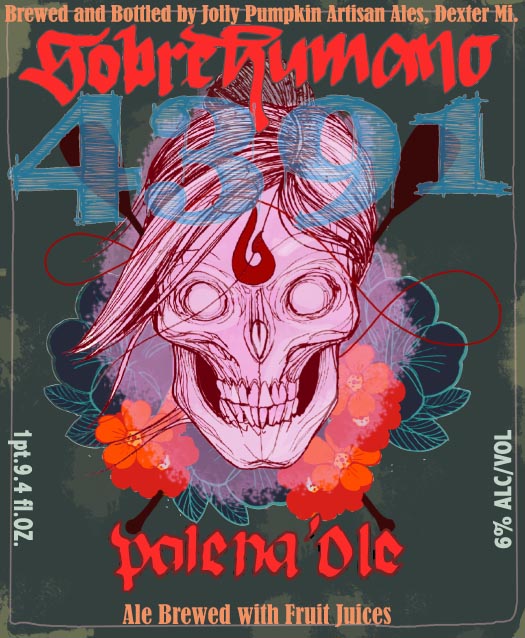 Jolly Pumpkin Artisan Ales (Dexter, MI) and  Maui Brewing Co (Lahaina, Maui, HI) recently collaborated to create  Sobrehumano Palena 'ole or "superhuman". It is actually Maui's first collaboration in a can, brewed with passionfruit and cherries.  The above is Jolly Pumpkin's edition of the collab. What's the beer? Each brewery will add its own unique spin — as Maui will ferment normally (arriving in cans), and Jolly Pumpkin will make it  a barrel aged sour (in bottles).
Yes, Michigan and Hawaii are connected.It should be obvious to you now as you hold this beer, and read this label. John and I designed this beer with two noble fruits from two noble states. Michigan & Hawaii.Cherries & liliko'i. Starting to see the connection. I feel it. So does John. 4391 miles msy separate our breweries, but not our thirst for the exquisit Hipa! -Ron Working with Ron is something I've wanted to do since I had my first Jolly Pumpkin beer. Years later, it's a reality. Being involved on this project was an honor and a privilege. Mahalo to my MBC crew and to you, fans of craft beer! -John
Where? Maui will produce 4,000 cases & 80 barrels, distributed in all 11 states in which the brewery currently ships.   Ed. Note: Jolly Pumpkin most likely will not know yield until barrel blending time.
Style: Red Ale (Maui) / Ambiguous Style (Jolly Pumpkin)  (w/ Cherries, Passionfruit)
Availability: 12 oz cans (Maui), 750 ml bottles (Jolly Pumpkin)
Arrival: June, 2012 (SAVOR)
6% ABV