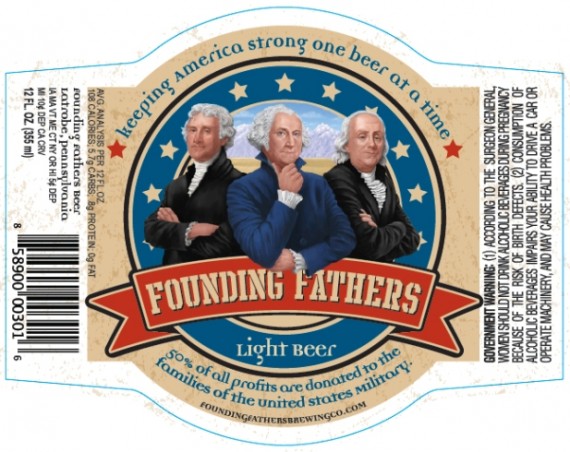 Founding Fathers Brewing just released Founding Father Light Beer this week.  The second installment in a line of beers from the Minnesota based brewery.  50% of the profits are donated the family of the United States Military.  
LONG LAKE, Minn., Feb. 14, 2012 – Founding Fathers Products, a local company that will donate 50 percent of its profits to support military troops and their families, has released Founding Fathers Light Beer in Minnesota and North Dakota.
Founding Fathers Lager, which is brewed in the Unites States, hit the shelves in November and quickly sold its first run of 7,500 cases. Both beers are now available in bottles of six or 12 packs.
"We have been very encouraged by how well Founding Fathers Lager sold in our first run and are excited to add the light beer to our product line," said Phil Knutsen, founder and CEO. "The largest breweries in the Unites States are now foreign-owned, and Founding Fathers is not only owned and brewed in America – half of our profits will go to those serving in our armed forces and their families."
In addition to adding the light formula, Founding Fathers is planning to expand its distribution to Alabama, Florida, Georgia, South Carolina and Tennessee by April.
Founding Fathers is partnering with local military organizations in each state as it launches its beer across the country. In Minnesota, profits will be administered through non-profit organizations Tee it up for the Troops and the Minnesota Military Family Foundation. Nationally, beer profits will be donated to the Armed Forces Relief Trust.
Founding Fathers was established in 2009 by Knutsen and a team of investors who believe retail shelves need more American-made products that serve an important cause.
"While we are starting with beer, the sky's the limit on what we can accomplish with Founding Fathers Products," Knutsen said. "We're very excited about expanding our business model to include additional products and we're passionate about raising money for our troops.
For more information about Founding Fathers Beer, visit www.foundingfathersbrewingco.com .
About Founding Fathers
Established in 2009 by Minnesota entrepreneur Phil Knutsen, the mission of Founding Fathers is to keep America strong one product at a time by providing the best American-made products aligned with the principles and values that made the United States the greatest country in the world. Founding Fathers Products will donate 50 percent of profits from the sale of its goods to support military troops and their families. For more information, visit www.foundingfathersproducts.com .
Contact: Ashley Franks952.440.6070 (office)763.218.9600 (cell)[email protected]
The Foundations supported by Founding Fathers Beers:
50% of the profits from Founding Fathers beer sold in the State of Minnesota will be administered through two non-profit organizations:
NATIONALLY
Each additional state that is added, 50% of the profits from Founding Fathers beer sold in that respective state will go to the Armed Forces Relief Trust and a local non-profit from that state.
Example, Florida: