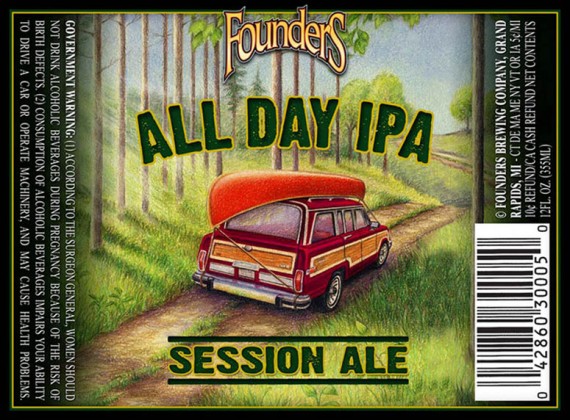 Founder's Brewing took a poll back in April asking people to vote for their new All Day IPA label.  Meet the winner.  The ABV is higher than 4%, so those hardcore session people are going to have a tough time with this one.  Another way to look at it: in the world of IPAs there aren't many that are below 5% or even in the neighborhood of 4%.  A 4.7% IPA would be easier to drink over time.
About All Day IPA:
The beer you've been waiting for. Keeping your taste satisfied while keeping your senses sharp. An all-day IPA naturally brewed with a complex array of malts, grains, and hops. Perfectly balanced for aggressive aromatics, moderate bitterness and a remarkably clean finish. It's the perfect companion for tall tales around the bonfire, working around the yard, or introducing great craft beer to your Uncle Ernie and Aunt Claudia.

Style: IPA
Hops: Simcoe, Amarillo, + others
Malts: 3 varieties – including Oats & Wheat
Taste Expectations: Fresh and hoppy, tropical fruits, wheat.
Availability: 12oz bottles, draft.
Arrival: TBA
All Day IPA won a silver medal at the 2010 GABF.