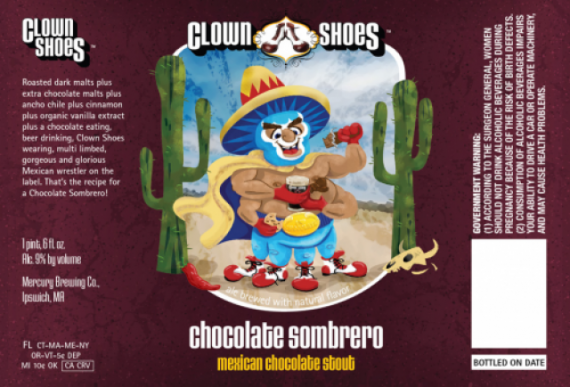 Today, Clown Shoes is brewing Chocolate Sombrero (previously known as cocoa powder.)   The brewery dubs it their Mexican imperial stout, because it uses ancho chile powder, cinnamon, and organic vanilla extract.   This brew day marks the last stout they are brewing for the season.
Starting next week, Clown Shoes expands into Philadelphia.  Georgia will see expanded distribution soon (as right now the beers are only sold in Total Wines in the state, which has raised legality questions.)
Mercury Brewing in Ipswich, Massachusetts is expanding their facility, which will allow for more Clown Shoes.
As for Mexican Sombrero:
Style: Imperial Stout
Adjuncts: Vanilla extract, Ancho chili powder, cinnamon.
Availability: 22oz bombers
9% ABV