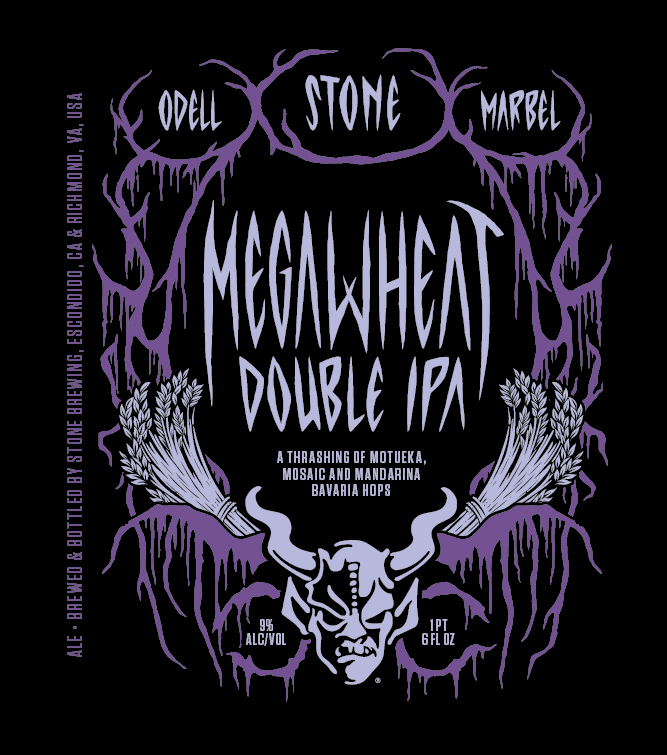 Stone Megawheat Double IPA is a future collaborative release by the California based brewery.
This riff teams up Colorado's Odell Brewing, Stone, and New Mexico's Marble Brewing. The trio created a wheat laden, "M" hop heavy, imperial IPA. "M" hops like Mandarina Bavaria, Motueka, and Mosaic. All that talk means a soft-on-your-palate beer with a ton of tangerine, orange, and citrus flavors.
Kick back and crank it up as we've done all the brewing.. the we being us and the special guest appearances of two heavy hitters in the indie craft beer industry: Colorado's Odell and New Mexico's Marble. Credited with 50 years of brewing chops, our trio built their wheat ale foundation on the classic "C" hops. Then, they rocked a pure hop triad of "M" hops to achieve a supercharged succession of orange, tangerine, lemon, lime, spice and dankness. The undulating riffs of Motueka, Mosaic, and Mandarina Bavaria hops slash through the wheat haze with equal footing, never playing over one another. The cacophony of flavor is what fans would expect ahead of a path that directly leads to the main stage… and then off the front of it, into the crowd!
Stone Megawheat Double IPA will be a 22 ounce bottle release, most likely in 2017. The brewery has not yet announced this beer.
Style: Imperial IPA
Hops: Mandarina Bavaria, Motueka, Mosaic
Availability: 22oz Bottles, Draft.
Debut: TBA
9% ABV