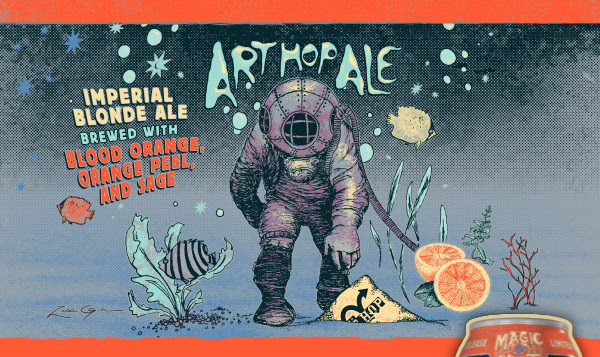 Magic Hat Art Hop Ale 2016 is coming this summer. The beer is a collaboration; an intersection of art and brewing.
The brewery teamed up with the non-profit SEABA (South End Arts and Business), which promotes local artists as well as businesses. The Labels for Libations contest motivated Vermont artists to submit works for the can.
The winning label was crated by Zelde Grimm.
Magic Hat Art Hop Ale 2016 is an imperial blonde ale, brewed with blood orange, orange peel, and sage.
A bready malt body creates a solid canvas for blood orange, while sage provides the balancing juxtaposition of spice to the citrus notes from Simcoe, Amarillo and Cascade hops.
Magic Hat Art Hop Ale 2016 is available all summer in 16 ounce cans and draft.
Style: Blonde Ale (w/ Blood Orange, Orange, and Sage.)
Availability: 16oz Cans, Draft. Summer seasonal.
Debut: June, 2016
8% ABV