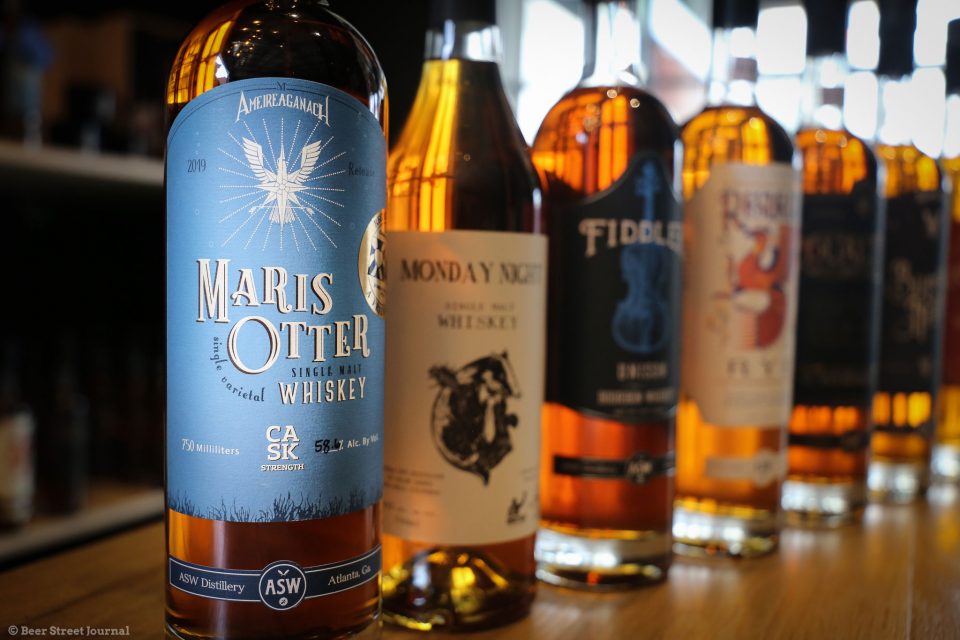 Maris Otter malt has a deep history in the beer brewing industry. This month, Atlanta based American Spirit Works highlighted it a little different way – in their latest whiskey.
The United Kingdom originating two-row barley was first introduced in 1966 by Dr. G. D. H. Bell, who created it as a cross between two older barley varieties, Proctor and Pioneer. Its low nitrogen content and desirable "malty" pale taste thrust it into great prominence among English brewers and has often called the "holy grail" of homebrewer malts.
American Spirit Works chose Maris Otter in their latest Ameireaganach Single Malt Whiskey Series. Each release is brewed in Scottish double copper pot distillation, with a "twist" of southern innovation- aging in American oak casks.
As the name suggests, this edition is distilled solely from Maris Otter malt. ASW's Head Distiller Justin Manglitz spent more than a decade owning an working in his homebrew shop in Athens, Georgia. Post distillation, the whiskey was aged in Char 3 and Char 4 American White Oak casks.
This second entry in the young distillery's Single Malt Series shows increasing flavor depth as the series grows. It's fruit-forward, slightly sweet without being cloying, with hints of vanilla in a warming finish. If you find yourself intimidated by Scotch-style whiskey, you'll find love in this glass that is distilled like Scotch but has a heart of bourbon. Drinkers of both beer and whiskey can appreciate everything that is ASW Maris Otter.
750-Milliliter bottles of ASW Maris Otter can be found at both of the distillery's Atlanta locations, as well and local bottle shops in limited quantities this October.
Image: Beer Street Journal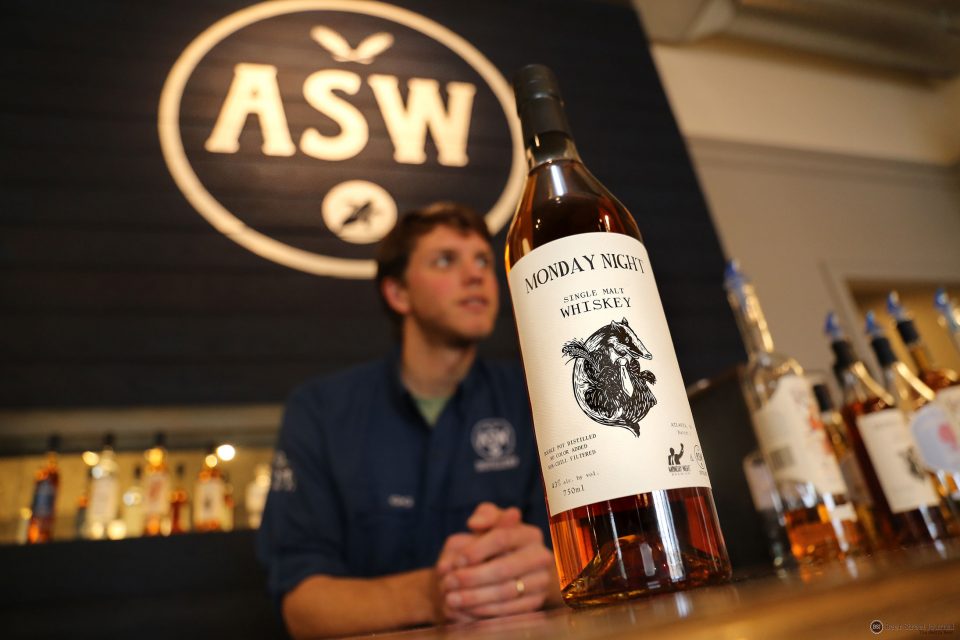 Atlanta, Georgia's Monday Night Brewing has some whiskey bragging rights to go alongside their beer lineup. Namely, their own whiskey, thanks to their collaboration partner (and now neighbor on Atlanta's West End), American Spirit Works.
This story starts more than 6 years ago with Monday Night co-founder Joel Iverson finding himself living next door to American Spirit co-founder Charlie Thompson. The brewery & distillery businesses were born literally next door to each other.
From a fermentation standpoint, brewing and distilling have a lot in common, so Monday Night's brewing team and ASW's distiller Justin Manglitz had a common starting point to begin this collaboration.
Monday Night Single Malt Whiskey lovingly referred to as "The Badger", starts with a mash full of cherrywood smoked malt, the same used in their flagship Drafty Kilt Scotch Ale. The wort is then transferred 5 miles down the road using the highly scientific "renting a Penske truck" method, according to Iverson. ASW distilled the mash and transferred it to white oak quarter casks.
Fortunately, our patience has paid off. Like the mighty Scottish badger, this Scotch-style Whiskey has a pleasant bite and will burrow into your belly with a smooth, slightly sweet, and delightfully smoky finish.
Monday Night Single Malt Whiskey is 86 Proof, available once again in 750-milliliter bottles at ASW as of August 9th. Ounce tasters can be purchased at both of their Atlanta locations. Bottles will be available in Georgia package stores starting mid-August.
Image: Beer Street Journal