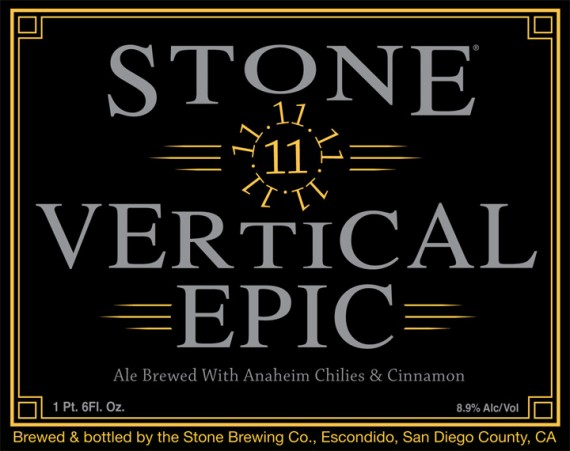 Have you had the chance to try Stone's new Vertical Epic 11.11.11? It's a Belgian strong pale ale brewed with Anaheim chilies and cinnamon.  Those home brewers wanting to re-create the recipe, now you can- courtesy of Stone.
We started off developing this beer by brewing a pilot size amber Belgian style ale using a nice variety of German and Belgian amber malts. It was a good start, a very nice beer, but was just missing that special something, that "twist" we like to have in the Stone Vertical Epic Ales. Then, one day last spring, I was in the Temecula Spice Shop in Old Town Temecula, just browsing around. I always like to look for interesting spices and teas and such, and I was looking at some chilies to possibly use for brewing…or to make a great chili for our annual Superbowl Chili Cookoff. The woman in the store told me that she had only one more bag of this wonderful Hatch Green Chili left, and she raved about the flavors from these chilies from New Mexico.
So I bought that last bag, and rather than cook with it, I decided we should try it in a pilot brew. As much as I love chilies, I'm not very well schooled in the different varieties, so I did a little research on the Hatch Chili, and was impressed by their reputation, and the idea of getting great, intense and unique chili flavor without a lot of heat. We also added a touch of cinnamon to that pilot brew, giving it a bit of a Mexican flair, and found the flavors worked amazingly well together, better than I had hoped for!
So here is the homebrew recipe. It's a pretty basic brew in a lot of ways, so have fun with it. It's 100% malt this year, no Belgian Syrup or Candi Sugar, so the beer ends up being a little fuller bodied than in the past few years. And as always, we suggest some musical selections that we think will pair well with each brewing step along the way.
Here is the grain bill:
Pale Malt 80.25%
Light Munich Malt 9.10%
Special B Malt 5.6%
CaraBohemian Malt 4%
Crystal 75-80°L 1.05%
As always, I am only providing the all grain version of the recipe, and just percentages, so you can figure out the weights based on the size of your brewing system and your normal efficiencies.
Target OG: 20.5°P (1.082 SG.)
OK, 11.11.11 is a Spinal Tap kind of day, so let's start things off with the classic "Tonight I'm Gonna Rock You Tonight" which should get all of us in the mood for an Epic Brew Day!
Mashing:
Use a 30 minute conversion rest at 150°F. This is a moderately low conversion temperature for a relatively short time that should provide a nice balance of malt dextrins in the finished beer. If you are keeping up with these recipes, this particular mash scheme was designed to make a bit maltier, fuller beer than what we've done the past few years. If you can, raise your mash temperature up to 165°F after conversion rest to stop the enzymatic conversion of starches to sugars before lautering.
Lautering:
Recirculate your wort gently from the bottom over the top of the mash to deposit the fine particles of malt on the top of the grain and to "set" your bed. Avoid splashing the wort. Recirculate for 5-15 minutes, depending on your system, before diverting wort flow to your kettle/boiling vessel. You should remove almost all the malt particles from the wort flow, but some haze is ok.
Start sparging in the lauter when the wort level is about ½" above the grain bed. Starting earlier will decrease your efficiency, because the water will dilute your first wort. Sparge water should be between 165°F and 170°F to maximize extraction, but avoid going over 170°F or you'll extract harsh compounds from the malt husks.
Fun trivia: Did you know the technique of sparging was invented by Scottish brewers in the 1700s? Up until that point, brewers would mash in, and then draw off all the liquid, and then add more water and mash again, repeating the process 3-4 times to obtain separate worts with decreasing gravities that were used for separate beers. Sparging as a standard brewing practice became common in the mid 1800s.
Sparge until you hit your target boil volume or until your wort gravity being drawn-off reaches 3°P (1.012 SG), whichever comes first. Don't lauter past 3°P, because when the sparged wort coming off the lauter is that low in sugar content, you risk extracting tannins and other harsh character from the malt husks.
Be careful not to rush the mashing and lautering step, or your brewing efficiency will go down. These steps should be done gently, with care. A good music selection will assist in keeping things relaxed and gentle during lautering. Don't go too mellow, just enough to keep you focused on the task at hand and inspired. Therefore, I suggest Spinal Tap's "Hell Hole" or "Rock and Roll Creation" to keep things relaxed and focused.
Boil:
Here is the hop bill:
2.9 grams per gallon Warrior hop pellets (15% AA)
2.9 grams per gallon Perle hop pellets (10% AA)
All added at the start of boil. There are no other hop additions during the boil. This should get you about 65 IBU's. Boil for 90 minutes.
You do know that hops are the flowers produced by female hop vines, right? Therefore, a perfect song choice when adding hop flowers to the boil is "Listen To What The Flower People Said" by Spinal Tap.
Always be safety minded, and beware of spontaneous combustion during flameout…
Whirlpool
Hop and Spice additions, to be added at the start of the whirlpool process:
2.9 grams per gallon New Zealand Pacific Jade hop pellets
1.4 grams per gallon U.K. Target hop pellets
1.4 grams per gallon New Mexico Hatch mild green chilies (dried and crushed)
1.4 grams per gallon crushed cinnamon stick
Pacific Jade is a newer hop variety from New Zealand, we first used it in the Stone 15th Anniversary Escondidian Imperial Black IPA (How much more black could that beer be? The answer is none. None more black.) We just love the pineapple, citrusy, and spicy herbal flavors it contributes. UK Target is a high alpha English hop that provides both a characteristic English earthy hop character and hints of Orange Marmalade and Tangerine. We used this hop in our Stone 14th Anniversary Emperial IPA.
The dried crushed chilies we got from Biad Chile in Las Cruces, New Mexico. We went with the mild version, not hot, because we really wanted the wonderful flavor without a lot of heat. The varieties are a blend of NM 6-4, AZ-20 and AZ-19, and are referred to as "Anaheim type" chilies, even though they come from New Mexico. So if you can't find New Mexico mild green chilies, perhaps dried and crushed Anaheim chilies would be an acceptable substitute.
The chilies and cinnamon stick we put in a mesh bag and hung in the whirlpool. The addition rate is fairly low. To paraphrase our lab tech Rick Blankemeier, we didn't want to brew a chili beer, we wanted to brew a great beer with chilies. The low addition rate allows all the other ingredients to blend in. You can taste the chilies, but this is far from a one-dimensional beer. Be sure to bust up the cinnamon stick into small pieces to maximize flavor extraction.
The whirlpool step is where you separate out your proteinaceous trub. This is called, in brewing techno-speak, the "trub break." An appropriate song choice here could be Spinal Tap's "Break Like The Wind."
Fermentation:
Yeast Addition: Pitch a Belgian yeast strain, enough to get 20-25 million cells per milliliter (requires a starter). We used the Wyeast 3220 Flanders Golden strain. This strain produces a lot of banana esters, which we found blended really well with the cinnamon flavors.
After the trub has been separated from the wort, chill the wort using an immersion chiller or a heat exchanger to about 65 °F. Add enough yeast to get a cell count of about 20-25 million cells per milliliter. We used a fairly high pitching rate (yeast addition rate) here, because we wanted to ferment at a lower temperature but still ensure the beer fermented out completely. This means that you will most likely have to build up your yeast culture at home using a starter. We fermented the Stone 11.11.11 Vertical Epic Ale at 68°F to maximize fruity ester formation and minimize the clove/spicy flavor formations, which form at higher levels with warmer Belgian yeast fermentation temperatures.
One thing about this yeast: it's a powerhouse and ferments well below normal gravity limits. In this case, we formulated the beer to finish out between 4 and 4.5°P, but the yeast took it down to about 2.5°P, which resulted in 9.4% abv.
By the time you are pitching, your brew day is just about complete….so you can spin some "All The Way Home," the very first Spinal Tap song co-written by musical geniuses Nigel Tufnel and David St. Hubbins.
Aging:
After fermentation completes (should finish between 2.5 and 3°P), chill the beer down to about 35°F or so, and let it sit until the beer clarifies, at least one week.
Package the beer as normal.
Perhaps now is the time to start celebrating your successful brew, and celebrate by pondering the wonderful mysteries of brewing, a mysterious art which we now know was started in ancient times, hundreds of years before the dawn of history, by an ancient race of people… the Druids…. at their mystical brewing site "Stonehenge." Nobody knows who taught the Druids how to brew, but their legacy lives on. Enjoy your brew day!