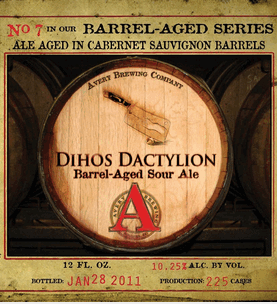 Avery Brewing (Boulder, CO) has a very successful and very rare.  Only 248 cases produced.  Release date – Friday, 2/25/11. Here are the details on this brew…
Experimentation.
Ales and lagers that defy styles or categories. This is what we are about: our driving force, our passion. To further facilitate this innovative spirit, we've developed our Barrel-Aged Series where anything, and we mean ANYTHING, goes! Brewed for those as adventurous as we are!
Flavor Profile:
Aged for eighteen months in fresh Cabernet Sauvignon wine barrels, Dihos Dactylion features a primary fermentation using a proprietary blend of saison yeasts, a secondary fermentation of our house brettanomyces wild yeast strain, along with lactobacillus and pediococcus bacteria added to sour things up. Dihos Dactylion bursts with aggressive aromas of red wine and a touch of brett; delightfully sour to the taste, initial lactic acid flavors hit high in the cheekbones before transitioning to complex layers of soft fruit, oaky-tannins and red wine.
Beer Rundown:
Style: Sour Ale, Barrel aged
Aged 18 months in fresh Cabernet Sauvignon barrels from Plumpjack Vineyards (CA)
Selectively blended from the very best 13 barrels of an initial 36 barrel batch
10.74% ABV
$8 per 12oz bottle
Limit 6 per customer
Don't live in Colorado? 200+ cases of Dihos Dactylion will be put up for grabs from the Avery Tap Room on 2/25. If any remains unsold after the release, we will allocate it among the best Avery beer bars and bottle shops around the country.
Upcoming Releases:
Collaboration Not Litigation Ale (Batch #5) — February 18th, 2011 at the Boulder Strong Ale Festival
The Maharaja Imperial IPA Batch #13 Releases on Friday, March 11th 6PM-10PM