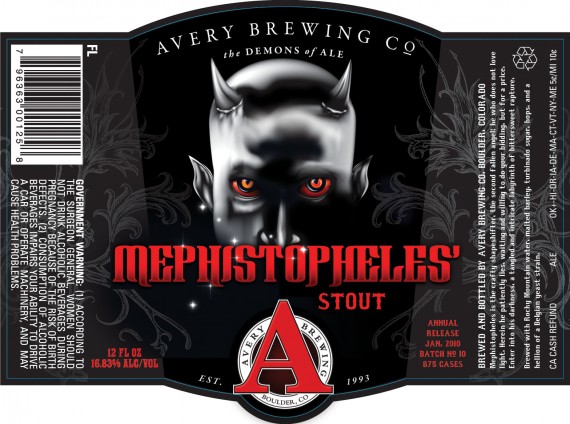 Saturday, 12/3/11 at 6pm will see this years release of Avery Brewing's Mephistopheles, a big ass imperial stout.  I mean that.  A 12oz bottle is a full 16.83% ABV.
There will of course be a release party at the brewery in Boulder, featuring a 3 year vertical of this "Demons Of Ale" release.  Tickets are $20 for the first 50 people.  Vertical tasting runs from 6-7 pm, hosted by Tap Room GM Phil Vaugn.
Bear witness to the 2011 release of Mephistopheles, along with 2 of his prior manifestations!  We will conduct a vertical tasting of his 2009, 2010, and 2011 batches, served with decadent edibles.
Style: Imperial Stout
Hops:  Magnum, Styrian Goldings
Malt: Two-row barley, black malt, roasted barley,Belgian special B, aromatic
Availability: 12oz bottles. Vintage dates.
ABV: 16.183%   IBUs: 107
The other demons include The Beast (Grand Cru, 14%) and Samael's (barrel aged barleywine, 14% ABV) 
Recent Avery News – The brewery plans on building a larger facility