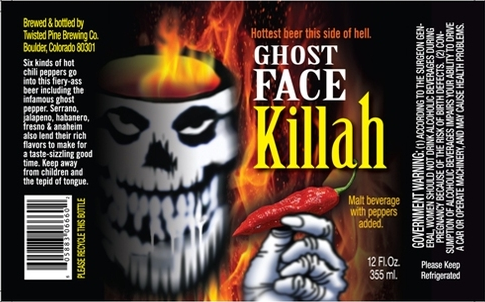 Twisted Pine Brewing Company just wanted to make Ghost Face Killah the hottest beer on the planet.  To my knowledge they still have that title.  They first bottled Ghost Face in May of last year (2011.)   The demand for it has been overwhelming.
At its base, Ghost Face Killah is an American-style wheat ale, but it is undeniably different than any other wheat beer out there. Once fermentation is complete, six different strains of chili peppers are introduced: Anaheim, Fresno, jalapeño, serrano, habanero and bhut jolokia, the 'ghost' pepper. The result is liquid fire that makes endorphins rush and foreheads sweat. The intense heat presents itself immediately and persists for more than a minute after the sip. Due to the extreme nature of the beer, Ghost Face Killah is sold individually in twelve ounce bottles, as Twisted Pine feels that amount is the perfect dose.
Now the brewery has made enough to hit 7 states: Colorado, as well as in Texas, New Mexico, Florida, Nebraska, Missouri and Louisiana.
Style: Chili Beer (understatement)
Arrival: Late January, 2012 (2nd release)
Side note: Yeah, Ghost Face Killah is part of the Wu Tang Clan. He signed off on the name last year, as long as a few cases made it to him in NY.  A little Wu Tang shall we?