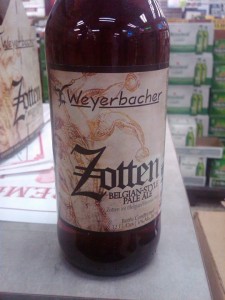 Weyerbacher Brewing, out of Easton, PA has to pull Zotten, it's Belgian Pale Ale from the shelves.  The reason? Copyright violation.
Zotten hit the Atlanta shelves in the past year.  Unbeknownst to Weyerbacher, producing this beer violated an existing US trademark of "Brugse Zot" a beer brewed by De Halve Maan, a Belgian brewer hailing from Bruges, Belgium.  Weyerbacher had no intention of violating the copyright, and has issued an apology to De Halve Maan, and as part of the settlement, is required to post the press release in designated locations. (Available on their website – www.weyerbacher.com.)
Weyerbacher has plans of re-releasing the beer under a different name.  The brewery will be taking a few weeks to investigate current copyrights, and imagery, and will have a statement about the future of the beer soon.
More on this – Weyerbacher.com