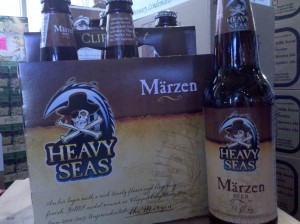 Heavy Seas Beer out of Baltimore, Maryland was recently having an identity crisis.  Essentially, Heavy Seas was carrying two brands – Clipper City, and Heavy Seas.  Not to be confusing – they were both the same brewery, just different lines.  The Heavy Seas line has been carried in Atlanta for a while, but the Clipper City beers didn't make the trip.  Actually, Clipper City beers didn't make it far out of Maryland at all.  I got to talk briefly about this dilemma with Founder/General Partner Hugh Sisson on a recent trip south.  The Clipper City brand is popular, especially in it's hometown of Baltimore. So is Heavy Seas.  Solution? Move Clipper City beers over to the Heavy Seas side.
The rebranding is complete, and the first Clipper City turned Heavy Seas beer has arrived in town.  Once known as MarzHon, you'll get to know it as Marzen.  MarzHon was a play on words as a local joke to the people of Baltimore.  (Everyone is "Hon".)  Marzen arrives in Atlanta well decorated.  It just won it's 4 medal in 4 years at the Great American Beer Fest.  That's fairly unheard of.  This beer is an easy drinking,  nearly sessionable (under 5%, this is 5.2 – close enough) malty marzen, with notes of caramel, toasted malts, and bread.
Ingredients –
Hops – Strisselspalt, Columbus (Bittering)
Malts – Pale Malt, Vienna Light, Crystal, Munich
5.25% ABV
Availability – Year round, 6 pks.  Draft Offerings.
Special thanks to Kelly at Heavy Seas.  Also Steve, brewer & Cask genius behind the awesome casks that hit the Atlanta scene.  He is responsible for the tasty goodness, and I'm looking forward to more…