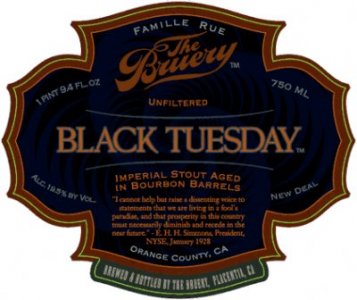 The Bruery will put Black Tuesday on sale online on Tuesday, 10/30/12.
The Bruery's Black Tuesday is bourbon barrel aged imperial stout, ranked among the best in the world.  Someone can pick up your bottles for you (The Bruery DOESN'T ship).
More info will be available at www.facebook.com/thebruery closer to the release. Last year in sold out in 60 minutes.
Style: Imperial Stout (Barrel Aged)
Availability: 750 ml bottles, waxed capped. Limited
19.2% ABV