Topic Archives:
Bruery Reserve Society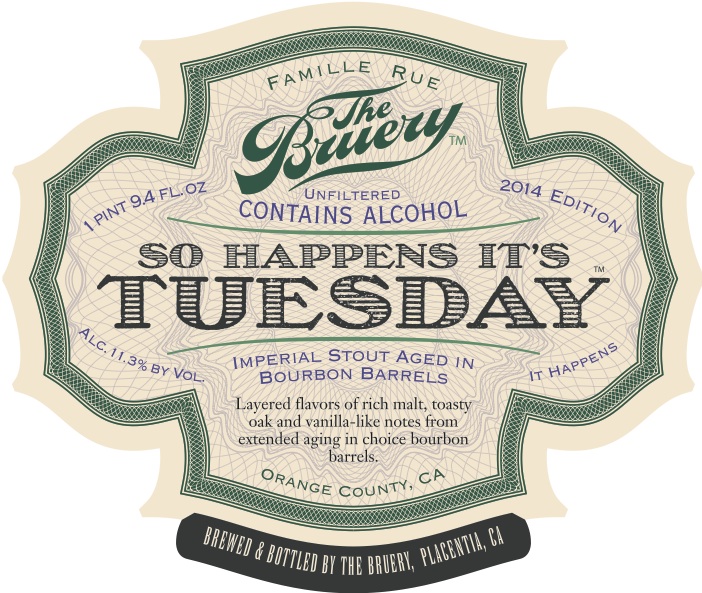 The Bruery (Placentia, CA) has an unforgettable imperial stout, Black Tuesday. This barrel aged beast in aged in bourbon, and clocks in around 18% ABV.  Black Tuesday big and bold, and sneaks up on you. Enter So Happens It's Tuesday, a less "intense" edition of Black Tuesday. This edition is brewed in the spirit of Black Tuesday, but finishes at just 11.3%.
In 1929, America was devastated by a great stock market crash that led to The Great Depression. Our infamous Black Tuesday stout is named in honor of the largest trading day of that crash, which led to some very dark times for our country. "So Happens it's Tuesday" is a slightly less intense incarnation of Black Tuesday, reminding us that there is always some good to be found within the bad. Things happen, life goes on, and this beer can be enjoyed in all of those moments.
The Bruery So Happens It's Tuesday is in 750ml bottles, just like the rest of the brewery's lineup. Available to The Reserve Society this December.
Style: Imperial Stout (Barrel Aged. Bourbon)
Availability: 750ml Bottles
Arrival: December, 2014
11.3% ABV
Update: 12/8. The Bruery has updated its members that the final beer does not meet their standards and will not be released.
As for So Happens It's Tuesday, which was to be included with your membership, we unfortunately have to announce that it isn't holding up to our standards.  We do enjoy this beer a lot and will make complimentary samples available for a short while at our Tasting Room beginning soon, but we don't feel comfortable sending these out as initially intended.  We will automatically refund your credit card on file with the full value of this beer ($20+tax) before the end of December.  We apologize for this inconvenience.