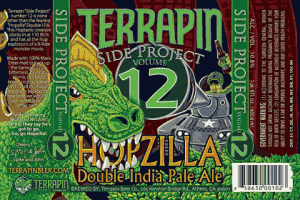 Terrapin's follow up to side project 11 – Boom Shakalager has officially hit the tanks.  Meaning it's fermenting now and will soon to be bottled.
Here is what is known –
10.8% ABV
110 IBU's
Release Date – TBA
Label Description –
"Terrapin Side Project 12 is none other than the fearless Hopzilla Double IPA. This hoptastic creature clocks in at 110 IBUs and has all the hop explosions of a B-rate monster movie.
Made with 100% Maris Otter malt to back up the barrage of hop bitterness, flavor and aroma, this beast knows no boundaries. With all of this hoppy goodness packed into one beer, we wouldn't have called it by any other name." 10.8% ABV."