Topic Archives:
Wintergreen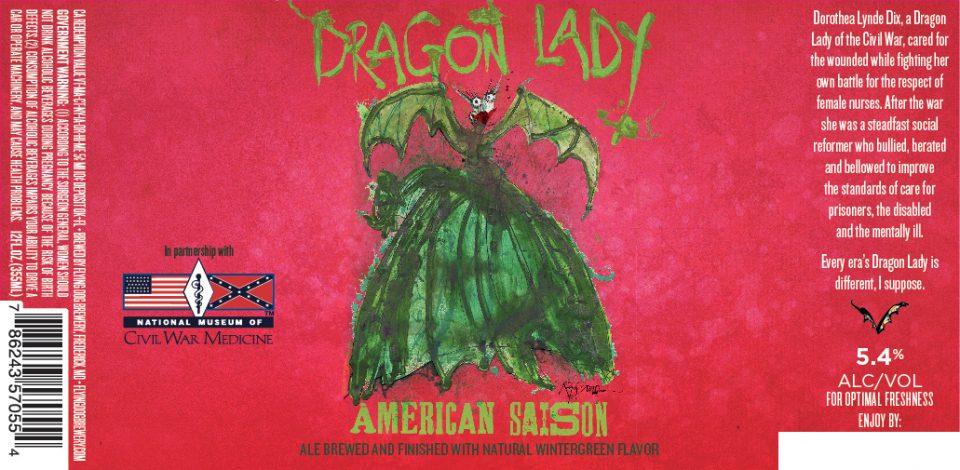 Flying Dog Dragon Lady American Saison debuts this month. A follow-up to another recent "historical" collaboration.
Last year, the Frederick, Maryland based brewery debuted Saw Bones, a beer inspired by the American Civil War.  The National Museum of Civil War Medicine is located in Flying Dog's hometown – with an amazing story to tell.
Frederick, Maryland is right on the Mason-Dixon Line. During the very bloody war (over 600,000 died) both the Union and the Confederacy marched through the town during the Maryland campaigns. Ultimately, the town became home to several hospitals. The first release, Saw Bones, was an homage to the horrific amputations that frequently occurred during the war.
In this sequel, Flying Dog Dragon Lady honors the work of Dorothea "Dragon Lady" Dix. During the war, she served as the Superintendent of Nurses in the Union army. She was described as being fierce, compassionate, and stubborn; while working tireless to improve the welfare of the patients around her. After the war broke out in 1861, Dix convinced the army to create the first female nursing corps. She was very strict (it IS wartime), earning her the "dragon lady" moniker.
As for Flying Dog Dragon Lady, the base beer is a saison, brewed with wintergreen. The scrub has been used in medicine thanks to its "antirheumatic, antispasmodic, antiseptic and carminative properties", as well as its ability to kill pain.
Flying Dog Dragon Lady will be available in 12 ounce bottles at both the brewery, and select northern Virginia locations.
Style: Saison (w/ Wintergreen)
Availability: 12oz Bottles. Limited.
Debut: January, 2017
5.4% ABV