Topic Archives:
Good People Funk Farm Series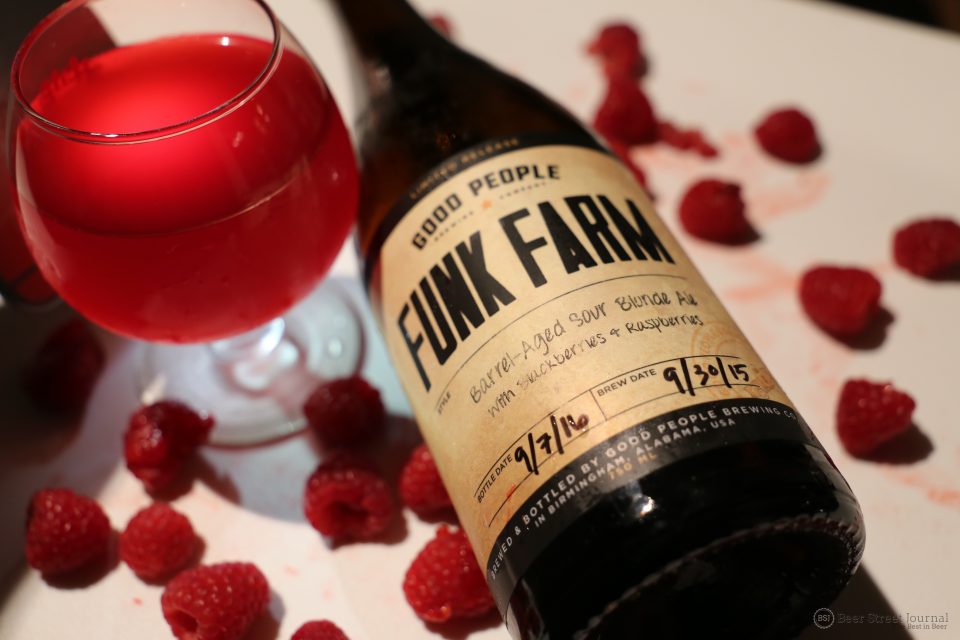 Good People Funk Farm Sour Blonde, the first sour/wild ale release by the Birmingham, Alabama brewery, debuts September 24th.
What you see above is the the first beer in the series – Funk Farm Sour Blonde Ale with Blackberries and Raspberries. The color is absolutely striking. Thank the hefty helping of blackberries and raspberries that this sour blonde has been spending 8 months with in French oak red wine barrels. The beer is juicy with a touch of lactic tartness – all that good that has gotten you addicted to sour beer in the first place. In short, wine, barrels, funky, sour.
Despite not distributing very far from their home, the Good People lineup is known quite well across the southeast. Having been addicted to beers from Good People like Snake Handler and Brown Ale, the Funk Farm Series has given us a new series from the deep south brewery to dream about. A fantastic first release in what is sure to be a successful, wild lineup.
Good People Funk Farm Sour Blonde Ale (Blackberries and Raspberries) debuts Saturday at the brewery in Birmingham, Alabama.
Style: American Wild/Sour Ale (w/ Blackberries, Raspberries. Wine Barrel Aged.)
Availability: 750ml Bottles. Limited.
Debut: 9/24/16
?? ABV
Birmingham, Alabama's Good People Brewing has been quietly building a sour and wild program dubbed "The Funk Farm." The first release in the series is coming in September.
If we've said it once, we've said it a thousand times, sour beer is on the rise in the United States. A trend that Good People Brewing has obviously noticed.
"We've been interested in sour beers and developing new beers for a couple years now. The Funk Farm series showcases the creativity and innovation of our brewers. Through experimentation, we want to explore the art of aged, mixed-fermentation sour beers," – Jason Malone, Co-Founder and Brewmaster
The first release is a sour blonde ale aged in French oak red wine barrels for 8 months with raspberries and blackberries. This release, and future releases, will be available in the 750 milliliter bottle format.
The first Funk Farm release is slated for Saturday, September 24, 2016 at the brewery in Birmingham, Alabama.