Topic Archives:
Elysian Manic IPA Series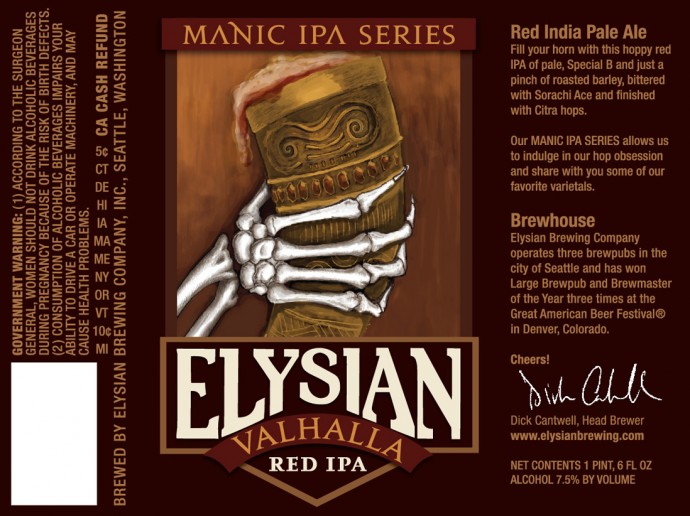 Elysian Brewing (Seattle, WA) will add Valhalla Red IPA to the Manic IPA Series in October, 2012. The series allows Elysian's brewmasters to go a little hop crazy. This edition the specialty malts give this beer a red hue, to accent the chosen hops in this brew.
Fill your horn with this hoppy red IPA of pale, Special B and just a pinch of roasted barley, bittered with Sorachi Ace and finished with Citra hops.
Style: IPA
Hops: Citra, Sorachi Ace
Malts: Pale, Special B, Roasted Barley
Availability: 22oz bombers, Draft.
Arrival: Sept-Dec, 2012
7.5% ABV
Elysian Brewing looks to be bottling Idiot Sauvin IPA this year.  This Manic IPA release features Nelson Sauvin hops, a New Zealand variety that adds wine-like flavors to beer.   Idiot has be spotted on tap recently.
The star of this show in this beer is the citrus and passion fruit aroma and flavor of the New Zealand Nelson Sauvin hops.   Our Manic IPA Series allows us to indulge in our hop obsession and share with you some of our favorite varietals.  
Style: American IPA
Availability: 22oz bombers, Draft.
Arrival: January, 2012
6.3% ABV