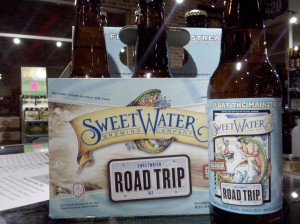 A couple of days late on this, but the most recent brew from Sweetwater's "Catch & Release" series – Road Trip has returned!  Road Trip is classified as a German Pilsner.  At least German Pilsner in the beginning.  If you haven't had Road Trip, its a crisp lager with a spicy hop finish.  It's essentially a pilsner with extra hop additions.  Instead of a lager yeast, an ale yeast was used, and it was fermented at ale temperatures – putting this "Road Trip" all over the map.  (Forgot that part, thanks Mark!)  This part of the process makes a big difference in ending flavor.  It can be stylistically confusing, and the flavor is all over the place, but hey – what good road trip isn't right?
Tasting – Look for hops with some spicy notes with a little bitter.   Crisp, fresh, with some sweet notes.  So many beers are born out of seasons.  Road Trip is no different.  A good choice for warm weather.
Availability – April – July.  12oz/6pks and Draft offerings.
5.3% ABV
Tapping Friday, 4/9 at Taco Mac Metropolis