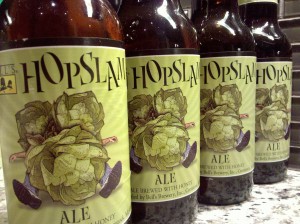 Looking for Bell's Hopslam?  Keep missing the rare kegs that are popping up around Atlanta?  Heres another chance!  Today at Taco Mac Metropolis – the infamous Hopslam.   Taps 6 pm.
Quick Recap –
Bell's Hopslam is a double IPA or Imperial IPA released seasonally, and is very limited.  Bell's only produces this beer for a little over a month and half each year.   In many cities, it sells out fast, leaving many people without.  The name pretty much tells you what to expect — a Hopslam.   This beer has an absolutely fantastic hop aroma.  If you love the smell of hops, you are definitely in the right place.  Expect piney and grapefruit hop tones on your palette.  While it has a slight bitter finish, Hopslam really reminds you first and foremost that hops are a flower.  Honey is added to sweeten the finish.
See you at 6 PM!  Another DIPA – Dogfish Head – Burton Baton is tapping also.