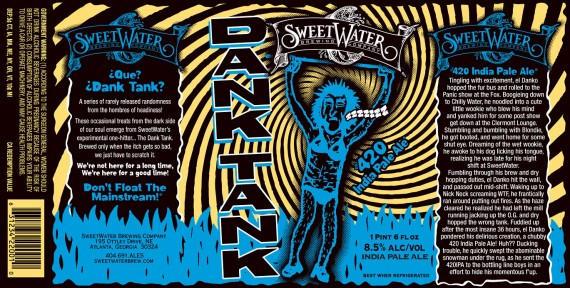 Great surprise this AM – SweetWater's next Dank Tank release has been revealed.  A hopped up 420 IPA.  For those of you that don't know – 420 is the brewery's signature pale ale.  This next release- billed at an F'up after el Danko met a wookie and partied at the Clermont Lounge with Blondie – is nearly double the strength of 420 Pale.  Don't have the pleasure of living in Atlanta?  Get to know The Clermont Lounge.  We've taken many a brewer that has come to town to this institution.  All shall remain… errr… nameless.
Tingling with excitement, el dank hopped the fur bus and rolled to the panic show at The Fox.  Boogieing down to Chilly Water, he noodled into a cute little wookie that blew his mind and yanked him from some post show get down at the Clermont lounge.  Stumbling and bumbling with blondie, he got booted, and went home for some shut eye.  Dreaming of the wet wookie, he awoke to his dog licking his tongue, realizing he was late for his night shift at SweetWater.
Fumbling through his brew and dry hopping duties, el danko hit the wall, and passed out mid-shift. Waking up to Nick Nock screaming WTF, he frantically ran around putting out fires.  As the haze cleared he realized he had left the mill running, jacking up the OG and dry hopping the wrong tank.  Fuddied up after the most insane 36 hours, el Danko pondered his delirious creation, a chubby 420 India Pale Ale! Huh??? Ducking trouble, he quickly swept the abominable snowman  under the rug, as he sent the 420 IPA to the bottling line boys in an effort to hide his momentoustus F- up.
Style: Imperial IPA
Availability: 22oz bombers, Draft
Arrival: TBA
8.5% ABV