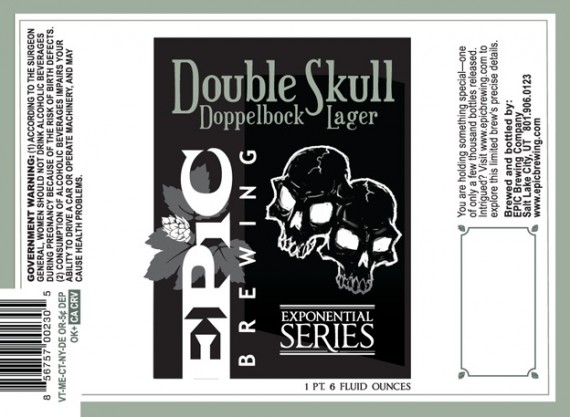 Epic Brewing (St. Lake City, UT) is adding Double Skull to their Exponential Series.  The series is a side project/creativity line of beers for the brewery.
Update:
Double Skull Doppelbock Release #1
Brewed on November 18, 2011. Packaged December 20, 2011.
This style is orginally brewed as a "liquid bread" by fasting monks. A Doppelbock is rich, filling, strong lager. Our version is a warm reddish brown with an aroma of perserved fruit and dark toasted bread. This beer has six different malts and enough noble hops to balance but leave a malt-forward finish. Double Skull is both restrained and insistant. The carmel flavors are best sipped in cold weather but leave a nice lager finish.
Style: Doppelbock
Hops: Premiant, Tettnang, Perle
Malts: Muntons Maris Otter, Weyermann Pilsner, Bonlander Munich Malt Briess, Breiss aromatic malt, Weyermann CaraMunich II and Carafa III
Availability: 22oz bombers
7.7% ABV