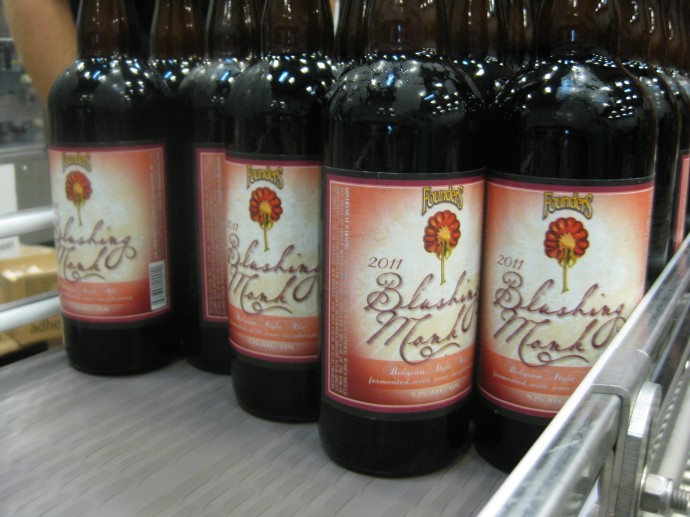 You want a Founders CBS, Blushing Monk, Better Half or Frangelic Mountain? Screw all that eBay crap. Here's a shot at these beers for a great cause. My buddy Ashley aka @BurgerandBrew is holding a beer raffle for his marathon run to fight Leukemia and Lymphoma with Team in Training. All you have to do is drop $10 (or more, capped at $50) to enter the raffle for these beers. 2nd & 3rd place don't suck either. New Glarus Raspberry Tart anyone?  Check out the rundown from Ashley:
THE PRIZES:
1st Place will receive:
The Entire Founders Backstage Series — CBS, Blushing Monk, Better Half and Frangelic Mountain.
2nd Place & 3rd Place will receive:
1 New Glarus Raspberry Tart & 1 New Glarus Belgian Red each
THE RULES:
Raffle Begins: Aug 14
Raffle Ends: August 24 at 8pm
$10 minimum donation per entry — Make Donation Here
*in an effort to keep this competitive we are putting a 5 entry cap on the competition. We HIGHLY encourage you to donate more if you can as this is for a good cause, but only $50 max will count toward raffle entries*
Only people who enter during the raffle period and mark their donation are eligible to win.
Winners will be chosen by random selection by drawing from a hat on video.
You can only win once.
The winners will be announced here, on twitter (by @Brewdega), on ratebeer (AtlCarl) and facebook, and contacted via Twitter DM or email within 24 hours of contest completion.
Boxes will be shipped out within one week of contest completion
When entering/donating, MAKE SURE to display your name on the donation list by using your BA handle — BA (Ex. AtlCarl — BA) or RateBeer handle — (Ex. AtlCarl — RB) or Twitter handle — T (Ex. Brewdega — T) or Name/BeerRaffle (Ashley — BR) for everything else.
Good luck! Great cause!