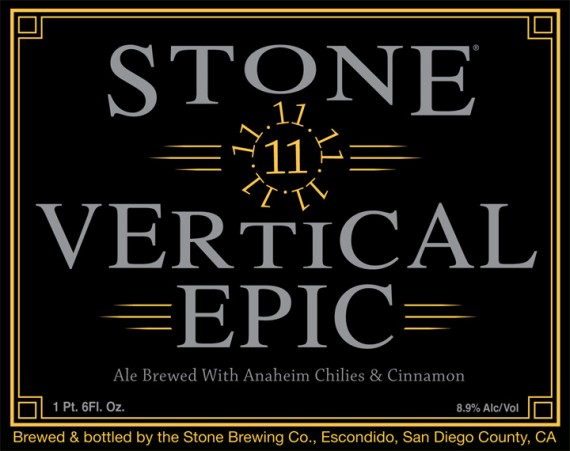 Stone Brewing has officially released the 2nd to last installment of their Vertical Epic Series.  Begun on February 2nd, 2002 (02.02.02), each beer had a Belgian influence, each much different than the first.
What's up this year?  A chili beer.  The brewery took a Belgian amber, and added Anaheim chilies from New Mexico's Hatch Valley.  Also, cracked cinnamon sticks.
Per Brewmaster Mitch Steele:
"The famous mild green chilies from the Hatch Valley in New Mexico add layers of delicious flavor with a very mild heat component. And the cinnamon doesn't dominate the beer's flavor by any means, instead adding a subtly complex spice note that blends amazingly well with the Hatch chilies and the banana esters present from the yeast."
Hops: Warrior, Target, Perle and Pacific Jade
Malts: Pale, Crystal, Munich, CaraBohemian and Special B
Availability: 22oz bombers, Draft
9.4% ABV
Suggested pairings, provided by "Dr." Bill Sysak
Appetizers: Bacon wrapped dates, foie gras, stuffed mushrooms
Entrées: Butternut squash soup, goulash, pork chops with cinnamon applesauce, mole negro, roasted duck, braised beef cheeks
Cheeses: Aged Gouda, Morbier, Vieux Chimay, Mahón
Desserts: Bananas Foster, crème brûlée, chocolate chip cookies, salted caramels
Cigars: Liga Privada No. 9, Alec Bradley Prensado Gran Toro, Padrón 6000
Previous Editions: 
2.02.02 — Witbier, 7.5% ABV
03.03.03 — Belgian Strong Dark, 8.5%
04.04.04 — Belgian Strong Pale Ale, 8.5%
05.05.05 — Belgian Strong Dark Ale, 8.5%
6.06.06 — Belgian Strong Dark Ale, 8.66%
7.07.07 — Belgian Strong Pale Ale, 8.4%
8.08.08 -Belgian IPA, 8.6%
09.09.09 — Belgian Strong Dark, 8.6%
10.10.10 –  Belgian-style Golden Ale with Chamomile flowers and white wine grapes.