Topic Archives:
Vertical Epic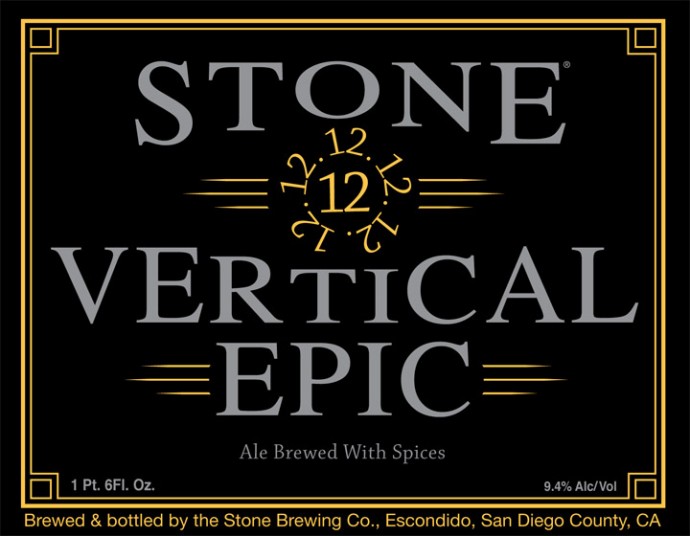 Stone Brewing Co's Vertical Epic 12.12.12 marks the end of an era. The series, spanning more than a decade, was quite a game changer if you think about it. They were cellaring beer before it became popular. This edition of VE was pilot batched 8 times before getting to the recipe below. Homebrewers, take a crack at it. This is the all grain recipe. With musical numbers to go along with it.
Grain Bill
Pale Malt — 58%
Light Crystal (15°L) — 13.5%
Medium Crystal (60°L) — 11.5%
Vienna Malt — 9.5%
Midnight Wheat Malt — 7.5%
Dark Candi Sugar — 3.5% of total grain weight
NOTE: As always, I am only providing the all grain version of the recipe, and just percentages so that you can figure out the weights based on the size of your brewing system and your normal efficiencies.
Spices added to mash:
Cinnamon Stick, broken/ground — 0.025 oz per gallon (0.71 grams/gallon)
Ground Allspice — 0.025 oz per gallon (0.71 grams/gallon)
Ground Cloves — 0.0125 oz per gallon (0.36 grams/gallon)
Sweet Orange Peel — 0.025 oz per gallon (0.71 grams/gallon)
Rosehips — 0.025 oz per gallon (0.71 grams/gallon)
Make the spice additions on the basis of brew length (gallons wort recovered). Note that the orange peel is sweet orange peel, not Curacao or bitter orange peel. Rosehips should be purchased ground, not whole, as whole rosehips are very difficult to crush (we had to use a fork-truck to do it)!
Target OG: 22°P (1.088 SG).
Musical Selection: First up are some classics from the box set Nuggets: Original Artyfacts from the First Psychedelic Era, 1965-1968: "Sugar and Spice" by The Cryin' Shames. Follow that with "Maid of Sugar, Maid of Spice" by Mouse and The Traps, "Falling Sugar" by The Palace Guard and, finally, "Double Shot of My Baby's Love" by The Swingin' Medallions. These songs just seem to fit, given the ingredients we are using in this beer!
If you haven't listened to this 4 disc box set, keep it playing. It's amazing. Let it all hang out, man. Groovy.
Mashing
Use a 60-minute conversion rest at 154°F. This is a fairly high conversion rest temperature that should provide enough body to balance the spices, hops and roasted malt characters in the finished beer.
If you can, raise your mash temperature up to 165°F after conversion rest to stop the enzymatic conversion of starches to sugars before lautering. If you cannot raise the temperature in your mash, reduce the conversion rest from 60 to 30-45 minutes.
Lautering
Recirculate your wort gently from the bottom over the top of the mash to deposit the fine particles of malt on the top of the grain and to "set" your bed. Avoid splashing the wort. Recirculate for 5-15 minutes, depending on your system, before diverting wort flow to your kettle/boiling vessel. You should remove almost all the malt particles from the wort flow, but some haze is OK.
Start sparging in the lauter when the wort level is about a ½-inch above the grain bed. Starting earlier will decrease your efficiency because the water will dilute your first wort. Sparge water should be between 165°F and 170°F to maximize extraction, but avoid going over 170°F or you'll extract harsh compounds from the malt husks.
Sparge until you hit your target boil volume or until the wort gravity being drawn off reaches 3°P (1.012 SG), whichever comes first. Don't lauter past 3°P, because when the sparged wort coming off the lauter is that low in sugar content, you risk extracting tannins and other harsh character from the malt husks.
Be careful not to rush the mashing and lautering step or your brewing efficiency will go down. These steps should be done with care. A good music selection will assist in keeping things relaxed and gentle during lautering.
Music Selection: I always like to listen to J.J. Cale during lautering. Something about his laid back vocals and front porch blues approach has always appealed to me. He's a great songwriter and a guitar maestro. If you don't know JJ Cale, he wrote some true classics like "After Midnight", "Call Me The Breeze" and "Cocaine". His style has influenced Eric Clapton, Mark Knopfler and countless others. JJ Cale now lives in California, somewhat near our brewery, another reason to celebrate his great music. Recommended listening is Anyway the Wind Blows, a two disc retrospective, or The Road to Escondido, a collaboration done with Eric Clapton.
Boil
Hop Bill:
0.15 oz per gallon (4.2 grams/gallon) Simcoe Hop Pellets (13% alpha)  at the start of the boil.
0.20 oz per gallon (5.6 grams/gallon) EACH Tettnang  (4.5% Alpha acid) and Willamette (5.5% alpha acid). Added 30 minutes prior to end of boil.
Spice additions (hung in a weighted down mesh bag):
Cinnamon — 0.009 oz per gallon (0.24 grams/gallon)
Nutmeg — 0.009 oz per gallon (0.24 grams/gallon)
Clove — 0.0045 oz per gallon (0/12 grams/gallon)
Boil for 90 minutes.
Music Selection: Alright, your brewing area should now have the aromas of holiday baking wafting tantalizingly through the house (or garage, or brewery). What better way to celebrate than to throw on some Christmas music? Yes, we realize Christmas has passed, but just as good Christmas beers taste perfectly fine in July, good holiday music can be listened to any time of the year. I recommend the following albums, these are some of my holiday favorites:Christmas with the Smithereens, Season's Greetings from Moe and A Charlie Brown Christmas by the Vince Guaraldi Trio. Hey, nothing says Christmas like The Smithereens!
Whirlpool
Spice additions-add at the start of the whirlpool process:
Cinnamon — 0.22 oz per gallon (0.6 grams/gallon)
Clove — 0.22 oz per gallon (0.6 grams/gallon)
Sweet Orange Peel — 0.22 oz per gallon (0.6 grams/gallon)
Allspice — 0.22 oz per gallon (0.6 grams/gallon)
Admittedly somewhat unusual for Stone, we did not hop this brew in the whirlpool. With the influence of the spices, we wanted to keep the hop presence well blended. Massive flavor hopping in the whirlpool may have clashed with the aromatic spice flavors.
The whirlpool step is where you separate out your proteinaceous trub. It's going to be a large trub pile with all these spices, though the lack of hops should help enhance your wort recovery.
Music Selection: One of my favorite new bands is The Sheepdogs from Saskatoon, Saskatchewan. Influenced by early 1970s classic rock, I think they creatively blend elements of The Allman Brothers Band, The Guess Who, The Grateful Dead and early Grand Funk Railroad. They groove and they rock with great guitar work, strong songwriting and fantastic vocal harmonies. Check 'em out.
Fermentation
Yeast Addition
Pitch a Belgian yeast strain, enough to get 20-25 million cells per milliliter (requires a starter). We used the Wyeast High Gravity Trappist yeast for this brew, the first time we've ever used this yeast. This yeast produced a lot of banana character, especially at a 68°F fermentation temperature. The banana esters combined well with the dark malt and dark candy sugar flavors, giving the beer a bit of a chocolate-banana dessert flavor.
After the trub has been separated from the wort, chill the wort using an immersion chiller or a heat exchanger to about 65 °F. Add enough yeast to get a cell count of about 20-25 million cells per milliliter. We like to use a higher pitching rate (yeast addition rate) here, because we wanted to ferment at a lower temperature but still ensure the beer ferments out completely. This means that you will most likely have to build up your yeast culture at home using a starter.
Music Selection: By the time you are pitching, your brew day is just about complete. I think "The Last Time" by the Rolling Stones would be a great way to cap off this final epic brew day! "May be the last time, but I don't know!" Alternative choice: Drunken Lullabies by Flogging Molly… just because! I like them!
So there you have it — the final homebrew recipe for the final edition of the Stone Vertical Epic Ale series. I hope those of you who have been brewing these recipes have enjoyed the experience as much as we have enjoyed brewing the beers here at the brewery. It's been my pleasure and honor to supply you, our valued fans and brewing enthusiasts, with the last seven recipes.