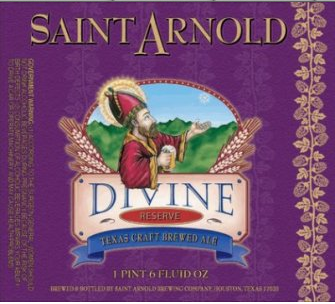 Tomorrow, July 31st – Saint Arnold releases Divine Reserve #12.
DR12 is an old ale and was inspired by David Rogers' winning entry in the 2011 Big Batch Brew Bash. There are two definitions of Old Ales. The first is an ale in the old style, which refers to an ale bigger than regular ales. This was the more common definition up to 15 years ago. Our Christmas Ale is an example of this style. The newer definition is a very high alcohol ale that has been aged. This is what DR12 is, except that you have to supply the aging. We did condition DR12 in the fermenters for over 2 months.
DR12 is a very big ale with the high alcohol (10%) creating a spicy malt and hop flavor. Aging will allow the alcohol to oxidize and create sherry flavors that will round out the beer. It will age best if stored cold. This beer will come into its own in a year and should be drinking great 5 years from now.
Style: Old Ale
Availability: Draft, 12 oz bottles. Limited 22oz bombers t00.
10% ABV