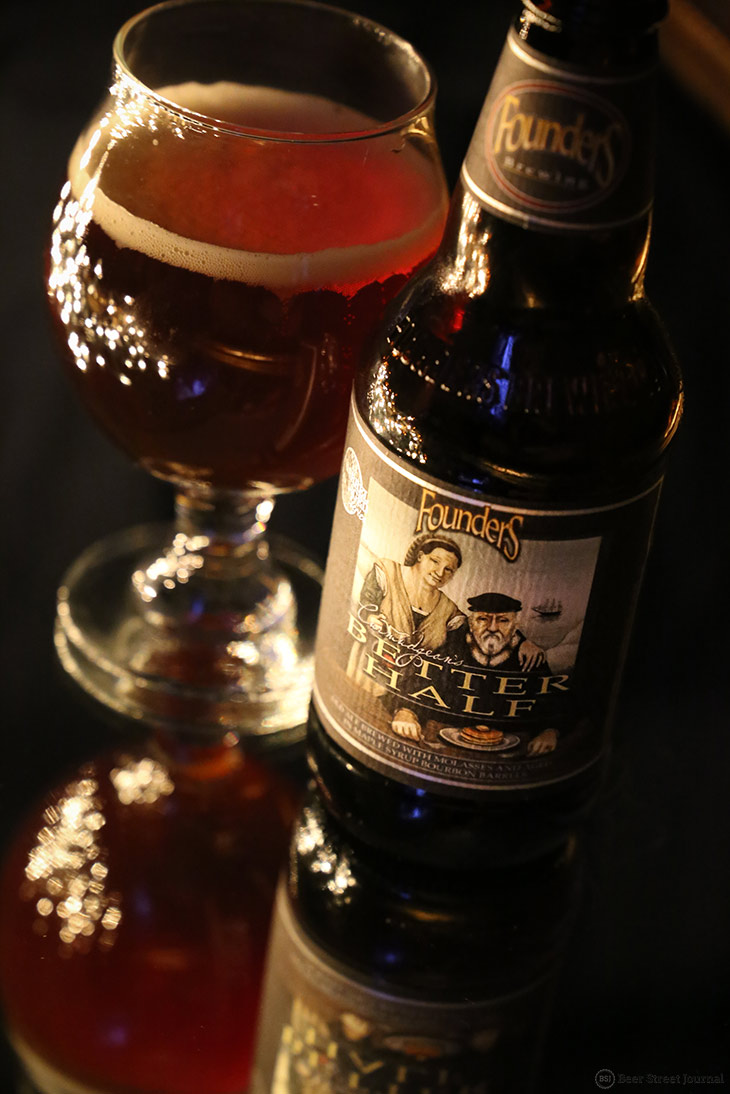 Founders Curmudgeon's Better Half, originally the third release in the brewery's Backstage Series, returns in August.
The grumpy "Curmudgeon" on the label is best known for appearances on hiatus old ale by the same name. In February 2012, the brewery released Curmudgeon's Better Half as a part of their Backstage Series, now known as the Barrel-Aged Series.
Curmudgeon's Better Half is the familiar old ale brewed with molasses and aged in maple syrup bourbon barrels. (Similar to Founders Canadian Breakfast Stout.) Fan demand prompted the return of this boozy treat.
Six years later, how is it? Let's take it back to December. Christmas saw the return of another legendary beer in Founders lineup – Canadian Breakfast Stout (CBS). The fans clamored and traded for it like it would cure cancer. The reviews ended up being a little mixed, and here's our theory why. It's been a quite a while since the last release, and so many barrel-aged beers have come and gone in that time span. Folks built it up in their minds over the years to a level CBS couldn't achieve, no matter how good it actually was.
Curmudgeon's Better Half was pretty great in our opinion six years ago and really hasn't been subjected to this mental buildup over the past half decade. We never thought we'd see it again. With the first sip, we are instantly reminded of the subtle beauty of this beer. There aren't a lot of old ales running around breweries these days. The original Curmudgeon was brewed with molasses and had a touch of sweetness that mixes with hints of brown sugar and caramel. This version aged in maple syrup bourbon barrels didn't throw "Better Half" over the top. Each sip is a subtle symphony of vanilla oak, sweet maple, caramel malt, with a finishing alcoholic heat and lingering sweetness. A slow sipper after dinner, or in a rocking chair on a porch as the sunsets. Our love affair was rekindled immediately.
Every year, the brewery plans to bring new creations to their coveted Barrel-Aged Series, but a few releases from the past beg to be re-released. Founders fans have been begging for Curmudgeon's Better Half to return since it's release 6 years ago.  "This was a beer that needed to get back into the rotation," says Barrel Maestro, Jason Heystek.
Founders Curmudgeon's Better Half will make its return starting August 24th in the new 12-ounce bottle format, 750-milliliter bottles, as well as draft.
Style: Old Ale (w/ Molasses. Maple Syrup Bourbon Barrel Aged.)
Availability: 750ml bottles, 12oz Bottles, Draft.
Debut: February 2012
Latest Return: 8/24/18
12.7% ABV, 35 IBUs