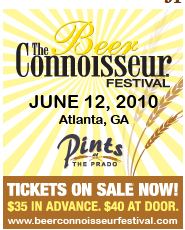 Today is Beeer Connoisseur Magazines's first beer festival, and its being held right here in Atlanta!  If you don't know about it – here is some quick info from the website.  It's probably too late to buy tickets online, so head for the door.  Cheers!
Press Release
Beer Lovers Unite! Celebrate the start of summer at the First Annual Beer Connoisseur Festival!
EVENT WEBSITE:  http://www.beerconnoisseurfest.com/
To purchase tickets to this event, please visit:
http://www.xorbia.com/tickets/bcfestival/
Mark your calendars craft beer fans. A very special extravaganza of world-class brews is coming to Atlanta on June 12th, 2010. Hosted by The Beer Connoisseur® Magazine, Taco Mac, 5 Seasons Brewing Company and restaurants of the The Prado enclave in north Atlanta, the first-ever Beer Connoisseur Festival (a.k.a. Pints at The Prado) will kick-off summer with a celebration of great American beer.
A selection of 150-plus brews hand picked from more than 40 world-class breweries — including big names like Allagash, Avery,Bell's, Chimay, Dogfish Head, Rogue, Stone and Weihenstephan, as well as local favorites like SweetWater, Terrapin and Atlanta Brewing Company — will be poured, and there will be plenty of rare offerings available at the landmark event.
The festival, which will be covered in the magazine's fall issue, doesn't begin and end with just great beer, though. There will be live music, lots of great food and access to TV's inside Taco Mac and 5 Seasons Brewing to catch all the FIFA World Cup action. Domestic beer and liquor drinks will be sold at an additonal charge.
So don't wait until the last minute — a limited number of tickets are on sale now, and they won't last long.