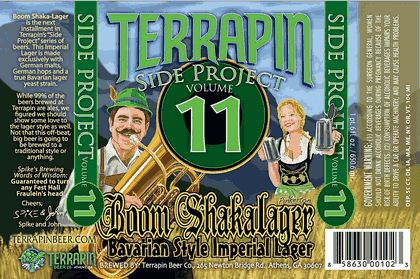 The next installment of Terrapin's Side Project Series – Boom Shakalager has hit shelves!
QUICK REVIEW:
Side Project #11 dubbed "Boom ShakaLager" is a Bavarian style imperial lager.  Brewed with Bavarian yeast of course — expect German hops and malts also.  Estimated release date — June, but there a lot more info to come before that happens.  It's rare to see a lager from Terrapin, as the label explains –
"Boom ShakaLager is the next installment in Terrapin's "Side Project" series of beers. This Imperial Lager is made exclusively with German malts, German hops and a true Bavarian lager yeast strain.  While 99% of the beers brewed at Terrapin are ales, we figured we should show some love to the lager style as well. Not that this off-beat, big beer is going to be brewed to a traditional style or anything."
Availability — 22oz bombers & draft. 1 time release.
9% ABV