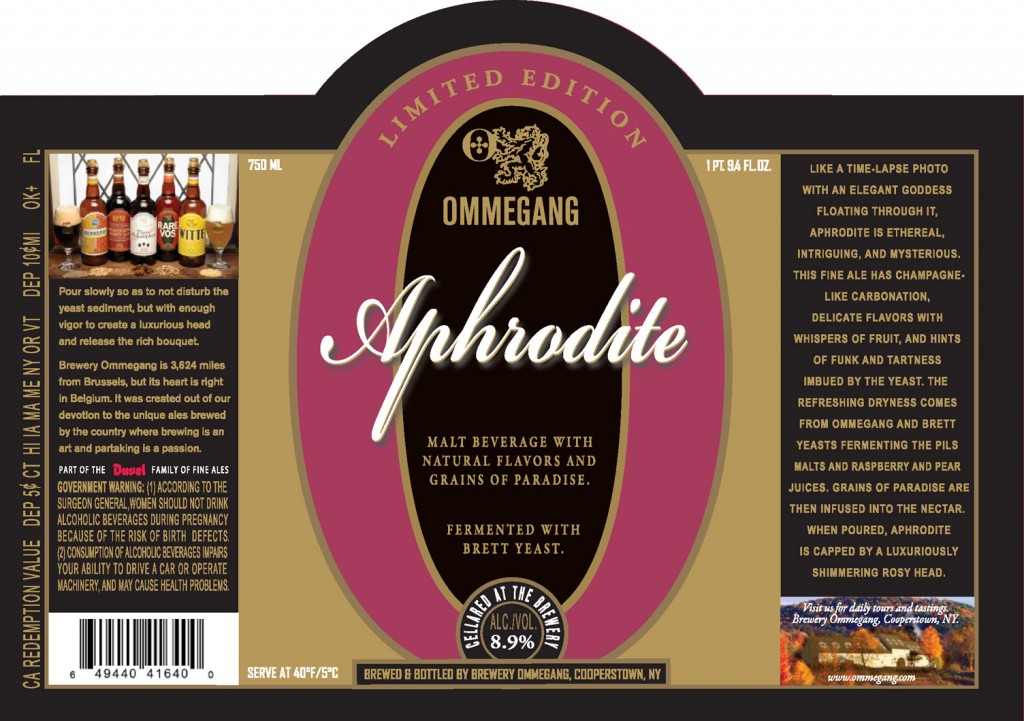 Brewery Ommegang is set to release Aphrodite in the near future.  It has been about 10 months in the making.  This Belgian style ale Ommegang touts the use of raspberry and pear juice, & grains of paradise.  Grains of paradise are in the ginger family, once touted to only grow in Eden.  These grains are native to West Africa, and have a peppery flavor.  This was the 3rd quarter "Tart Ale" that was mentioned their limited release schedule.  Ommegang wanted to make a drinkable, tart, funky, fruit enhanced beer.
[quote style="boxed"]Like a time-lapse photo with an elegant goddess floating through it, Aphrodite is ethereal, intriguing, and mysterious.  This fine ale has champagne-like carbonation, delicate flavors with whispers of fruit, and hints of funk and tartness imbued by the yeast.  The refreshing dryness comes from Ommegang and Brett yeasts fermenting the pils malts and raspberry and pear juices.  Grains of Paradise are then infused into the nectar.  When poured, Aphrodite is capped by a luxuriously shimmering rosy head.[/quote]
Style:
Availability: 750ml Bottles, corked & caged.  Draft.
Arrival: July-September, 2011
8.9% ABV
Ommegang has a mention of this beer on their website, but with no description yet. http://www.ommegang.com/index.php?mcat=1&scat=14&spclty=1