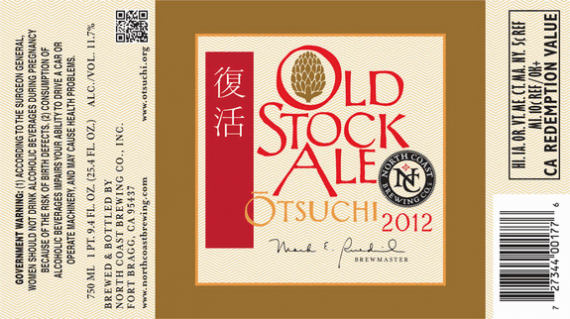 A slightly different edition of North Coast Brewing's  Old Stock – Old Stock Otsuchi 2012.  100% of the funds benefit Otsuchi Tsunami relief efforts.  If you follow the QR code, it takes you to a webpage asking for donations to the relief fund, based in Fort Bragg, California (where the brewery is based.)  As it turns out, the Fort Bragg and Otsuchi have some history:
2011 marks the 10th anniversary of the sister city relationship between Fort Bragg and Otsuchi. The story of the program's creation is compelling. When Ken Sasaki was a boy in Otsuchi, his father, a fisherman was lost at sea. Ken-san would sit on the bluffs overlooking the ocean, ever in search of any sign of his father. When he became older, he wondered what was on the other side of the ocean- wondering who lived over there and what were they like? He drew a line across the Pacific and found Fort Bragg on the exact same latitude. In 1997, he made contact and invited then Mayor, Lindy Peters to come visit Otsuchi.
In 2001, days after the tragic events of 9/11 that Lindy made his second trip to Otsuchi. The following year, September, 2002, the first student exchange of Fort Bragg students went to Otsuchi. Subsequent exchanges took place in 2004, 2006, 2008 and 2010. In 2005 a Sister-City Proclamation was solidified by then Mayor, Dave Turner and Mayor Yamazaki.
Though the focus of our exchange program will be changing and evolving due to the devastation Otsuchi has sustained, our community will continue to stand by our beloved sister city, Otsuchi, Japan.
If you check out the video below taken in October of last year, Otsuchi was hit pretty hard.  This edition of Old Stock (no word if ingredients are different) will be available in a larger format bottle (750mls.) There is more info to come on Old Stock Otsuchi for sure.
Style: Old Ale
Availability: 750ml (of this edition)
Arrival: Anniversary of the tsunami, 3/11/12
11.7% ABV