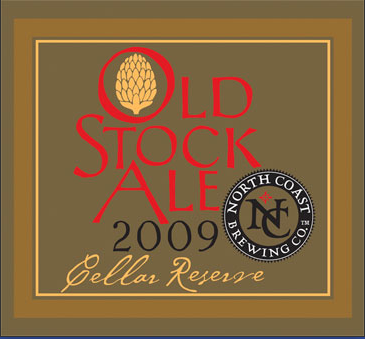 I have a soft spot for barrel aged beers.  I was all giggly when I got my hands on North Coast Brewing's (Fort Bragg, CA) 11th Anniversary release of  Old Rasputin XI.  Old Stock Cellar Reserve is NC's popular and award winning old ale "Old Stock" that has spent 18 months in bourbon barrels.  Get a glass ready.
In an exercise of humanitarian charity and to demonstrate just how very much we care about our friends, North Coast brewmaster, Mark Ruedrich, has just now released an exceptional batch of 2009 Old Stock Ale that has been aged for 18 months in oak Bourbon barrels.
In this latest example of the cunning of his hand, Brewmaster Ruedrich has set new standards for the brewers' art. To say that it's amazing would be an understatement. Look for Old Stock Cellar Reserve in the special decorated bottle, as they say, wherever fine beers are sold. There's not much, and it will go fast, so be vigilant.

Style: Old Ale (barrel aged)
Taste Expectations: Brown sugar, caramel, vanilla, oak, booze, dark fruits.
Availability: Limited small batch 16.9ml bottles. Corked/Caged.
14% ABV