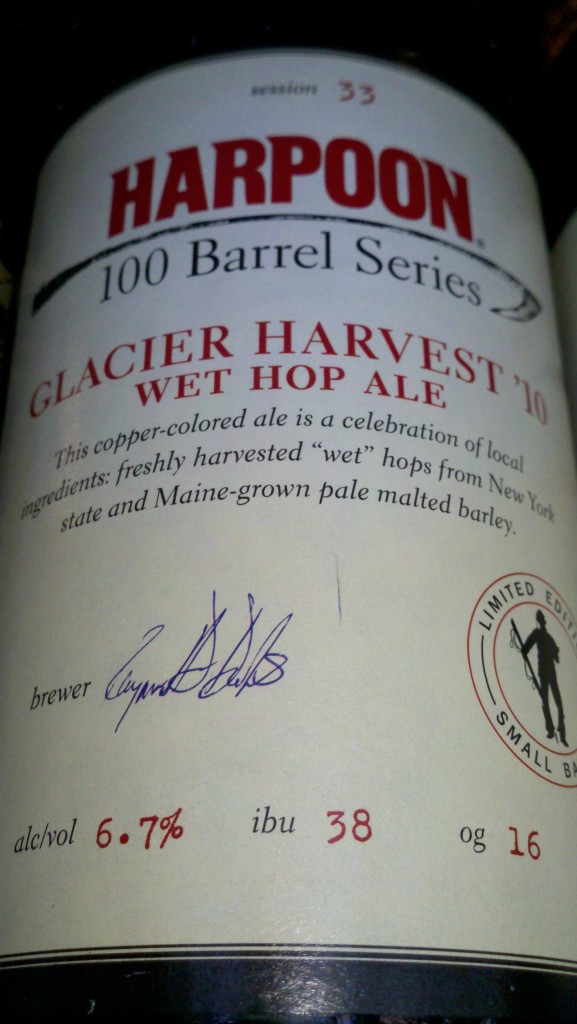 Harpoon Brewing's 100 Barrel series is what the brewery calls a return to their roots.   The 100 Barrel series is exactly as it sounds.  Small batch, one of a kind, 100 barrels.  Throughout the year, a different Harpoon brewer will create a recipe from start to finish.  As a finishing touch, the brewer signs the label.  It's completely their creation.  Like a piece of artwork.  Glacier Wet Hop is release #33.
#33 Backstory:
For the 33rd session of the Harpoon 100 Barrel Series, we're using locally grown hops and malted barley in our Glacier Harvest Wet Hop Ale, a pale ale made with fresh Glacier hops.
Wet hop beers are brewed using fresh, "wet" hops instead of traditional dried hops–hops contain about 60% moisture when they are picked. Typically, when hops are picked they are quickly dried and refrigerated to make them stable and more consistent for brewing. Freshly picked wet hops, however, need to be used within hours of harvest or they will begin to degrade rapidly.
Wet hops retain more of their natural aroma and volatile flavors that dissipate when dried. This gives wet hop beers a fresher hop flavor and aroma than that of beers hopped with processed hops. Barley grown in Maine complements the New York-grown Glacier hops. This robust pale malt can stand up to the intense, immersed hop flavor, and makes the beer a true celebration of Northeastern US brewing.
Style: American Pale Ale
Taste Expectations: Earthy hops. Slight citrus.  Some toasted malts. Caramel malts. Hops are fresh & clean.
Availability: 22oz Bombers. Draft.  One time 100 Barrel brew.
6.7% ABV
Brewed by by Ray Dobens, Harpoon brewer.