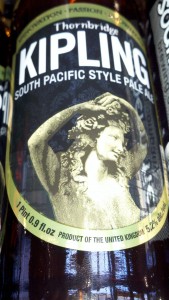 The new one heads to you from Thornbridge Brewing (England).  Kipling, a "South Pacific Pale Ale" joins St. Petersburg, Halcyon, and Jaipur in the brewery's American lineup.  Why South Pacific?  Read the description for clues.
Commercial Description:
Golden blonde beer with an exquisite passionfruit, gooseberry and mango aroma. An initial sweetness and full body are balanced by a lasting grapefruit-like bitter finish.
Style: English Pale Ale
Taste Expectations: Citrus hops, with a tropical flair.  Expect pineapple/mango. Honey, herbal flavor. Malts are pale w/ a touch of biscuit.
Availability: 16oz bottles. No U.S. draft to date.
5.2% ABV