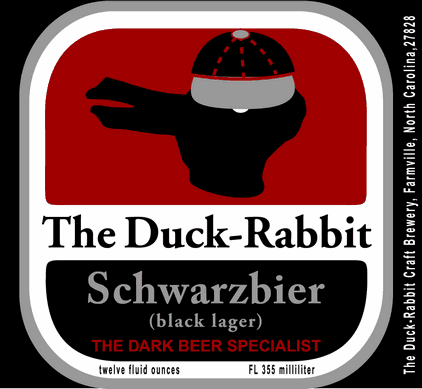 Duck Rabbit's  Schwarzbier arrives today.  It was first released last year in a very limited batch only in bottles.  Schwarzbier (black beer) is a dark German lager that uses a bottom fermenting lager yeast, with no roasted barley. Dark malts used in brewing give the lager chocolate or coffee tones, depending on what was used.
Duck Rabbit's head brewer/founder Paul Philippon describes –
"A refreshing summer beer (sometimes referred to as a black pils). In Duck-Rabbit fashion, we've made ours extra schwarzy. It's very dark and quite roasty with plenty of noble hops for a crisp, thirst-quenching German character."
Known Ingredients –
Hops:  Hallertau
Taste Expectations: Roasted malts. Coffee, semi sweet chocolate.  Some sweetness ties this black lager together.
Availability:  12oz bottles and draft.
5.8% ABV