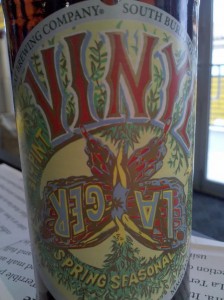 Ok, its January but inevitably it was going to start.  Spring beers.   This one is a little early, but it has arrived none the less – Vinyl by Magic Hat Brewing.
Vinyl is an amber lager.  Here is the ingredient run down –
Malts – Pale, Crystal, Munich, & Victory.
Hops – Northern Brewer
Magic Hat's Description –
Vinyl Lager is a beer with deep amber hue, sweet malt taste and slight balancing hop touch.  This beer is produced using a lager strain of yeast and is fermented low end of ale fermentation temperatures, allowing the beer to maintain its easy-drinking lager-like characteristics.
Vinyl is 5.1% ABV.   Available in 6 pks seasonally.  Confirmed at Hop City currently.
Check out the You Tube video intro of Vinyl HERE
Fun Fact – The label artwork was drawn by Jim Pollock who has done Phish posters for years.