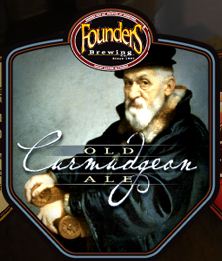 Arriving alongside Nemesis this week is Old Curmudgeon Ale both from Founder's Brewing, Grand Rapids, Michigan.  Old Curmudgeon is an old ale (simply meaning aged, usually in oak.)
Curmudgeon is brewed with molasses with a huge focus on malts.  Then it is aged in oak barrels.   The end result is a malty but sweet strong ale.  You will note caramel malts, raisin tones in the nose and palette, subtle hints of a vanilla, with some noticeable alcohol.  Its very drinkable, you can easily forget it's almost 10%.  If you enjoyed Dirty Bastard (malty scotch ale) or Backwoods Bastard (scotch ale in bourbon) Then don't pass this up.
Available seasonally in small batches.  It shipped with Nemesis. Should starting popping up today.  Sightings to come.  Follow @AtlBeerMaster on Twitter.
9.8% ABV
50 IBU's