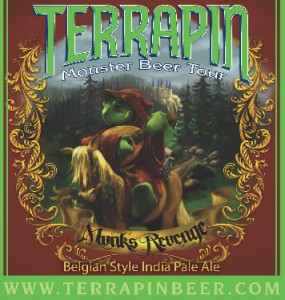 Terrapin's Monk Revenge debuted about a year ago as a part of the Side Project series.  Monk's Revenge was Belgian style Double IPA.  Belgian double IPA's are essentially DIPA's with a Belgian yeast, instead of a conventional ale yeast.  With Belgian IPA's you the hoppy flair of an IPA, but with a flavors of a Belgian you have come to know.
If you missed Monk's Revenge in the 22oz bomber bottles you will have a chance again soon — and 1 time each year.   Monk's has been added to Terrapin's Monster Beer Tour, a seasonal series of Terrapin's Big Brews. ( Includes Wake & Bake, Big Hoppy  Monster, Rye Squared, to name a few.)
Monk's Revenge is brewed with a malt bill like a Belgian Tripel, but with the hop content of an IPA.  The Belgian yeast comes from one of the 7 Trappist breweries.  Monk's Revenge also uses dextrose, an adjuct was used to force carbonate Monk's , and is the first time brewer Spike Buckowski has ever used it.
Ingredients —
Hops — Magnum, Columbus, Chinook, Centennial, Amarillo, Cascade, Simcoe
Malts — 2 Row, Pilsner, Munich Light, Aroma, Pale Crystal, Acidulated
9.8% ABV
99 IBU's
Next up in the Monster Beer Tour is Rye Squared, slated for shelves this week.  After Rye Squared  – expected is Monk's Revenge aka the "Big Nasty" by Terrapin insiders.  (It's a loving term, Monk's is quite tasty.)  Actual dates coming soon.