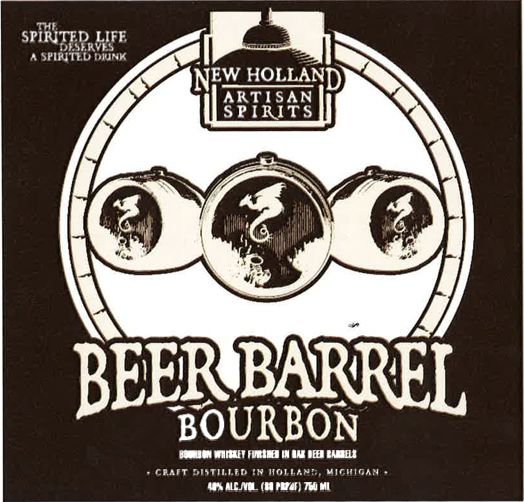 New Holland Artisan Spirits (part of New Holland Brewing) introduces a new spirit – Beer Barrel Bourbon.  This new bourbon has an intimate relationship with Dragon's Milk, the brewery's imperial stout aged in bourbon barrels for 90 days. The result is a beer that is hard to ignore. (Downright impossible to stop drinking.)
Beer Barrel Bourbon ages for a few years in oak, then Dragon's Milk goes in. After the beer leaves, the bourbon is then finished in barrels after the beer aged in it for 90 days. Boom. Beer Barrel Bourbon.
The idea for Beer Barrel Bourbon surfaced three years ago, as New Holland's founder, Brett VanderKamp, found inspiration in the most-revered scotches and their sherry-cask aging. "The notes of sherry added another layer of complexity, color and richness. I thought, we could do this for whiskey," said VanderKamp.
Arrival:October 1, 2012
Type: Bourbon Whiskey Finished in Oak Beer Barrels
Proof: 80
Tasting notes: The barrel aging lends biscuit notes and a smooth malt character to the robust whiskey tones of toffee and caramel.
 Where? Michigan, Chicago, New York, Georgia Minnesota, Wisconsin, Missouri, Indiana, and Kentucky.