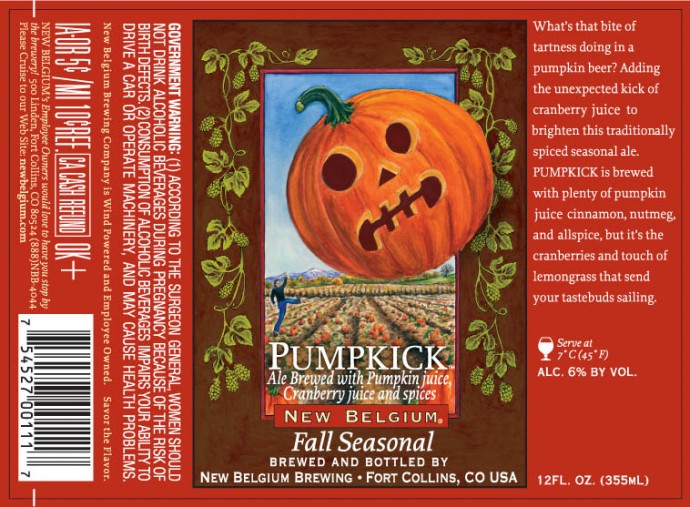 New Belgium Brewing (Fort Collins, CO) plays around with their seasonal releases every couple of years. It keeps the brewers creative, and the New Belgium drinkers happy. The above, PUMPKICK, has a lot in common with  Lips of Faith release – Kick, a collaboration with Elysian Brewing.
Kick was a slightly sour pumpkin beer brewed with cranberries, aged in oak. Looks like no oak in PUMPKICK, but you can look forward to pumpkin juice, cranberries, and more.
What's that bite of  tartness doing in a pumpkin beer? Adding the unexpected kick of cranberry juice to brighten this traditionally spiced seasonal ale. PUMPKICK is brewed with plenty of pumpkin juice cinnamon, nutmeg, and allspice, but its the cranberries and touch of lemongrass that send your tastebuds sailing.
Style: Pumpkin Beer (w/ Cranberry Juice, Cinnamon, Allspice, Nutmeg, Lemongrass)
Availability: 12oz bottles, Draft
Arrival: TBA
6% ABV