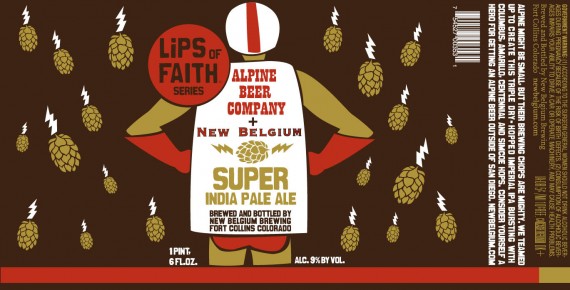 New Belgium & Alpine Beer Company team up to bring you Super India Pale Ale.  This collaboration is actually in two parts.  One brewed at Alpine in San Diego, and another that is brewed at New Belgium.   In February, Peter Bouckaert from NB travelled to San Diego County to create installment #1, that will arrive first.  (And only where you can find Alpine, which is very close to the brewery.)
The above is the edition to be brewed in Fort Collins.   As hinted to by New Belgium – it's s going to be an IPA of the real San Diego variety: bold, hoppy, delicious. But this summer is a long time from now and things could change, especially in brain's of wonderful and creative (and a little crazy).
Label:
Alpine might be small, but their brewing chops are mighty.  We teamed up to create this triple dry-hopped imperial IPA bursting with Columbus, Amarillo, centennial and simcoe hops.  Consider yourself a hero for getting an Alpine beer outside of San Diego.  
Style: Imperial IPA
Availability: 22oz bombers, Draft
Arrival: TBA
9% ABV
note: The above is tentative.  Subject to change at whim of the brewer, the beer, or the barrel