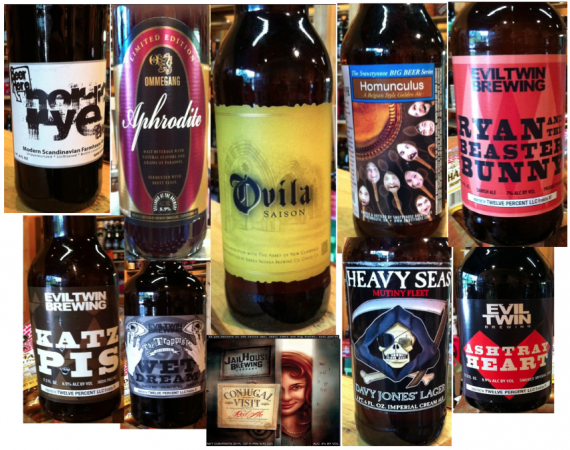 Lots of new releases over the past week. Here is a run down of new stuff for your glass.
Beer Here – Nordic Rye Beer, 8%.
Ommegang Aphrodite – Fruit Beer, 8.9%. Belgian inspired fruit beer.  Raspberry, pear juice. Grains of Paradise. 750ml
Sierra Nevada Ovila Saison – 7%.  Second edition in the New Clairveaux collaborations. 750ml bottles.
Smuttynose Homunculus – Belgian IPA, 9.9%.  Hoppy Belgian style IPA w/ impregnating packaging 22oz bombers.
Heavy Seas Davy Jones Lager – Imperial Pils, 7%. Imperial cream ale.  Grainy & smooth. 22oz
Evil Twin Ryan and the Beaster Bunny – Saison, 7%.
Evil Twin Ashtray Heart – Smoked Stout, 8.9%. Smokey  & dark.
Evil Twin Wet Dream – Hoppy Brown Ale, 8%.  Made for The Trappist in Oakland, CA
Evil Twin Katz Pis – IPA, 6.5%.  Renamed from Catz Piss. Stupid US alcohol rules.
Jailhouse Conjugal Visit – Red Ale, 6%.  New red ale from Hampton, GA. 22oz bombers.
Pics: @AleYeahBeer