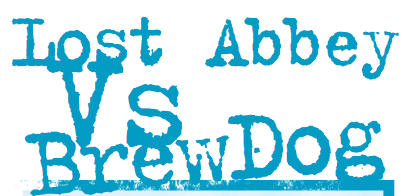 If you have seen Tomme Arthur's Twitter feed recently, he talks about his trip over the pond to Europe & spent a few days with Brewdog in Glasgow, Scotland.  You can't put two brewers from breweries near half the globe apart and expect them not to collaborate on something.
James Watt unveiled the first collaboration between Lost Abbey & Brewdog today in his Hop Propaganda newsletter – "Lost Dog."
We brewed an Imperial Porter, aiming for 10% ABV and using a blend of 7 different malts. In terms of hops, we keep the IBUs modest at 35 and hopped the beer entirely with First Gold. And of course this collaboration just had to be aged in oak.
We settled on some killer rum casks for the Imperial Porter. We only brewed a tiny batch of this beer and intend to age it in the rum barrels for about 12 months. So look out for the Lost Abbey & BrewDog rum barrel aged Imperial Porter coming your way in early 2012.
There you have it.