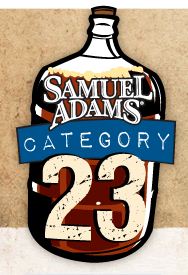 Each year Boston Beer Company a.k.a. Samuel Adams holds a homebrewing competition dubbed the "Category 23 Longshot Competition".  You might say "Category 23" what's that?  Well, the Beer Judge Certification Program (BJCP) classifies beer into 22 categories.  The 23rd category, is reserved for beers that are unique/different that don't fit into the first 22.  Brewery owner Jim Koch was once himself a homebrewer, brewing his great-great grandfather's now infamous "Boston Lager" in the 1980's.
The beers are submitted to Sam Adams and judged on aroma, appearance, taste, and mouthfeel.  Each year there are literally 1,000's of entries.   Over the weekend at The Great American Beer Festival in Denver, CO the winners were announced.  Richard Roper, a homebrewer here in Atlanta, GA won!!!  His Belgian Imperial IPA was selected alongside a Black IPA by Rodney Kibzey from Illinois.  Both Richard and Rodney's beers will be brewed and distributed nationally in the 2011 Sam Adam's Longshot "Category 23" 6 packs with one more entry- Sam Adam's employee Caitlin DeClercq's "Honey Bee's Lavender Wheat."  Caitlin won the employee homebrew contest this year.
Richard Roper bought his ingredients for his winning brew at Hop City!
Congratulations Richard!
Runner ups for the Longshot competition include – Rachel McAdams' "Rae Rae's Ale," a brown ale brewed with black tea and bergamot.  Also,  Theresa Szilagyi's "Don Tiburon Ale," brewed with agave, mango, and cherries.